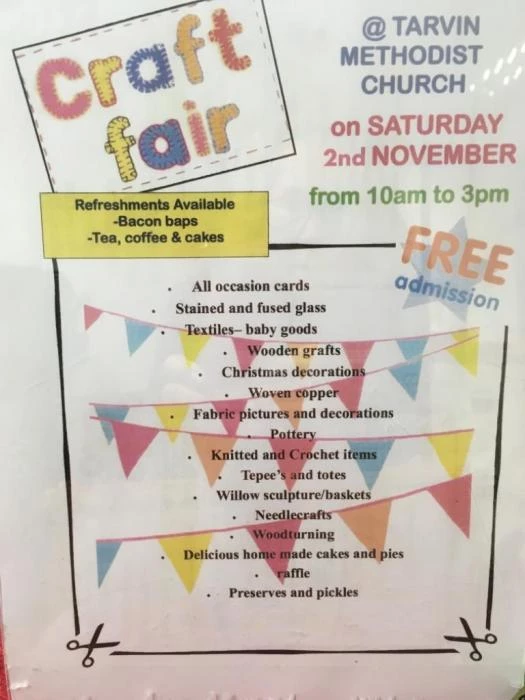 Tarvin is very fortunate to have a village calendar with so many important "events", which can bring the community together so effectively. Within just the next few weeks, we are looking forward to the Service of Remembrance, the Christmas Market and the Salvation Army Carols. Together with all of those is the Annual Craft Fair that is held at Tarvin Methodist Church (the Chapel on the High Street) at the start of each November. This year, this will be held this coming Saturday, 2nd November.
The test of a good craft fair is whether the craftspeople ask to return year after year. We have been well-served by the folk who offer their wares for sale – and, clearly, Tarvin folk have also been well-served by them because the sale is always thronged with people who are beginning their Christmas shopping and who recognise that it would be impossible to buy that special and very individual gift elsewhere. We will have folk selling fabric, textile and knitted items – for the home, for babies, for adults and for everyone in between – as well as those who have made beautiful items in pottery, basketry, wood, glass and copper. There will be jewellery, vintage stands for afternoon tea, cards, home-made jams and pickles as well as the home-baked cakes. If I could spell it, I might say that the day will be a veritable cornucopia of delights!
Add to this the fact that the Chapel will once again be supplying its famous refreshments – with bacon and sausage baps to go with the teas, coffees and cakes – and you have a shopping expedition that will become an event! Certainly there will be something of interest to everyone. Do come along!
The event runs between 10.00am and 3.00pm