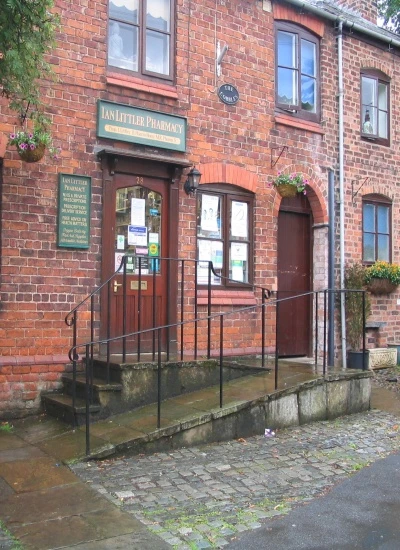 01829 741880
General Enquiries: ianlittlerpharmacy@gmail.com
Confidential Enquiries: Ian.Littler@nhs.net
The Cobbles, 28-30 High St, Tarvin, CH3 8EE
www.ianlittlerpharmacy.co.uk
Opening Times
Monday 9.00am to 1pm and 2.15pm to 6.30pm
Tuesday 9.00am to 1pm and 2.15pm to 5.30pm
Wednesday 9.00am to 1pm and 2.15pm to 5.30pm
Thursday 9.00am to 1pm and 2.15pm to 5.30pm
Friday 9.00am to 1pm and 2.15pm to 6.30pm
Saturday 9.00am to 1.00pm
Sundays & Bank Holidays please see Rota
What we do
The pharmacy that cares has been providing health care for you and your families for the last 20 years.
We are an independent pharmacy. Customer service is always very important to us but we are mindful of the ever-changing NHS. Our NHS services include medicine use reviews, New Medicine service, stop smoking, emergency contraception, minor ailments service, needle exchange and observed consumption.
We can offer advice on healthy living, blood pressure, diabetes, and annual flu vaccinations.
We have disabled access to the pharmacy and are taking nominations for the NHS electronic prescription service.
We collect prescriptions from:
Tarporley Health Centre Park Road, Tarporley
Dr P Campbell and associates
Dr R Gleek Dr A Adey and Dr Griffin medical practice
Kelsall Medical Centre, Church Street, Kelsall,
Dr M Durrant, Dr Hinds,
Bunbury Medical Practice, Bunbury
Sandiway Surgery, Sandiway
Plus any surgeries in Chester by arrangement.