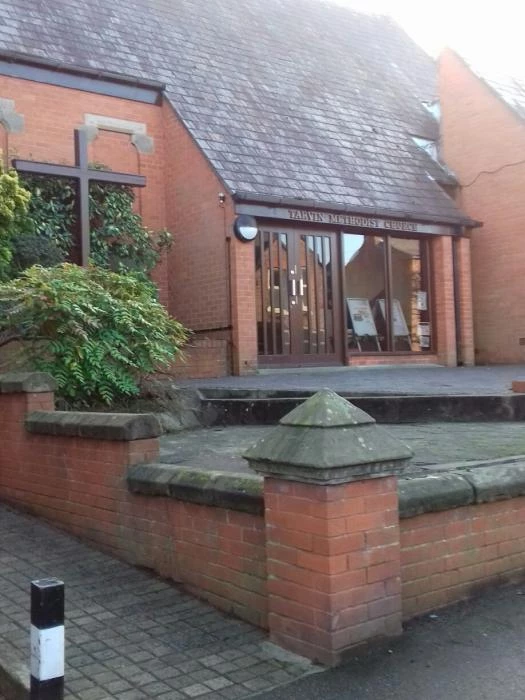 http://www.tarvinmethodist.org
01829 01829 741022
tarvinmethodistchurch@aol.com
Contacts:
Rev'd Jo Brown (01829 741022),
Charles (01829 741172) or Mike (01829 740959)
Tarvin Methodist Church is a very active church in the heart of Tarvin Village.
As well as regular Sunday services, the lovely folks at TMC also hold regular community events.
Sunday Services: 11.00am, to which everyone is welcome.
Saturday Coffee Mornings 10 am to 12 pm
Pop in for a chat with local residents and have a cup of tea or coffee and biscuits. Local residents who need to publicise their organisation are invited to "Take Over" the coffee morning to raise either funds or awareness for their cause (or both!).
Splash! -Parent & toddler group every Wednesday 9.30 am to 11.30 am (term time only) for children 0 to 5 years old. Come along and meet new friends and play mates for the children, playtime, crafts, snacks, story and a singalong!
Soup Lunch. At 12.30pm on the 1st and 3rd Thursdays in each month, people enjoy a lunch of homemade soup (2 types to choose from), crusty bread, cheese and pate. There is no charge but a collection is taken up for charity.
Knit and Natter. Every Thursday, between 1.30pm and 3.30pm, a group of people come together to improve their craft skills, discuss the matters of the moment and drink copious quantities of tea!
Annual Events held at the Church include:
Tarvin Community Woodland Trust Coffee Morning and Plant Sale.
Tarvin's own manifestation of the McMillan Coffee Morning.
Service of Remembering. Held in early November, this is a service to provide comfort for the bereaved.
Annual Craft Fair. This is held on the first Saturday in November and gives everyone a chance to get their Christmas presents early.
Carol Service – led by the Band & Songsters of Chester Salvation Army.
Christmas in the Parlour -- A first class meal followed by fun and light entertainment.

Tarvin Methodist in the newsroom
History of Tarvin Methodist Church
Tarvin Methodist Garden Party 2019
Tarvin Methodist Craft Fair