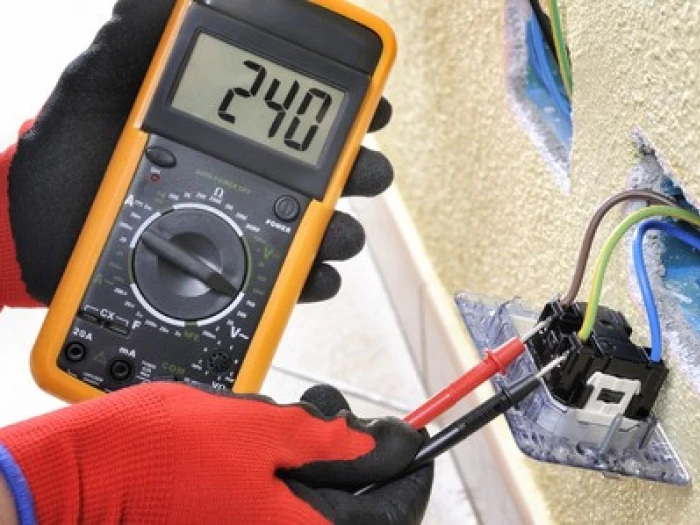 The Coronavirus has affected us all and our lives have changed dramatically. Economic life has taken a huge hit as businesses of all sizes have to cease or limit trading. Tarvin Online has spoken to one local small business to talk about the effects of the current crisis.
Damon Leach runs Complete Electrical Solutions NW. Locally born, a Tarvin resident for many years with many family members living locally, he completed his education at Tarporley High School. He admits that he could not wait to leave school and start work, expecting to go into his father's building company. However, his father suggested he 'try something different' and work experience with a local electrician followed. He realised that he had found his niche and an apprenticeship and college course followed. Maths, one of the few subjects he had enjoyed at school, suddenly became important.
Newly qualified, he worked for several companies gaining experience. At 23 he felt confident enough to go self-employed starting, as many do, as a sub-contractor. His main contract was with a company rewiring the premises of a national retail company. A contact with a large broadband provider gave him the ability to tender for work in his own name, and his company became fully established. An apprentice and another electrician were employed. The company looked secure.
At the beginning of 2020, on holiday with his finance, he looked forward with confidence. A broad range of commercial and domestic contracts gave the business stability and there were opportunities for growth. A move to new offices was planned for February. His fiancée had also started a new venture running a dog-grooming business which was gaining customers steadily. The future looked bright.
Like many similar small businesses, the lockdown has seen work virtually vanish overnight and turnover drop by about 95%. As an established company, Damon has been able to access the Government's furlough scheme, though his fiancée, with a much newer business, has not been eligible. He has continued to do some outside work and to cover certain emergency issues where he can maintain proper social distancing, a situation he is happy to continue for his customers. He has done a lot of work at home but says "It is amazing how much you miss work when you have none, from a business and social perspective".
As for the future, Damon sees only uncertainty. Work halted before the lockdown will need to be completed, but how much new work will be generated in difficult economic times cannot easily be predicted. His plans for future expansion are on hold, but hopefully not disbanded completely.
Tarvin Online is sure that this story is being repeated in many small businesses in the village. We hope that others will contact us so the story of our village in this unique and troubling time can be recorded.