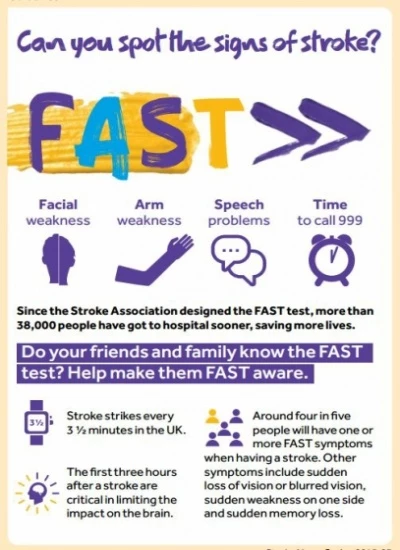 My husband experienced a major stroke on 28th June. His miraculous recovery is mainly due to the fact that speed really is of the essence.
I was dialling 999 whilst he was having his stroke, all medical teams were faultless with their care. I owe them so much. You might think you would know if you saw someone having a stroke but would you?
Some symptoms can be very subtle and can affect any age, any fitness.
Learn the acronym FAST
F=Facial weakness
A=Arm weakness
S= Speech problems
T=Time to call 999
The life you save could be that of a loved one.
Ed: "Well done Lyn for acting so fast in dealing with your husband's stroke, we should all take notice of the advice from the Stroke Association."