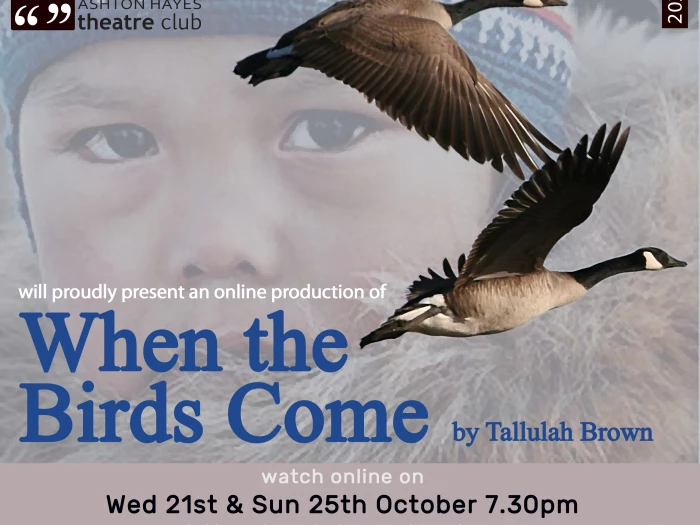 Despite the pandemic stopping all live theatre shows AHTC has been very busy working on a project to bring the theatre into your homes.
Talullah Brown has kindly given permission to perform her beautiful 1 Act play "When the Birds Come". It is primarily about climate change but also the relationship between a brother and sister, living on the Alaskan Tundra. Margaret and Stanley are part of a nomadic tribe who have been settled in a township on the edge of the Tundra but they need to be relocated by the government because of the rising water levels threatening to overwhelm their village.
Margaret is almost 14 and cannot wait for the re-location to Anchorage as she wants to start enjoying the comforts of city life with her aunt Adele. Her brother Stanley aged only 8, is not so sure about leaving their village and their parents. But Margaret wants Stanley to go with her, so she convinces him that he has super powers and it is in fact him who is melting the ice. They plan to run in the spring, when the birds come. Staring Georgia Firth & Harry Johnson.
If you would like to watch this play email ahtheatreclub@outlook.com letting us know which date you would like to watch on either Wednesday 21st October or Sunday 25th October at 7.30pm You will be sent you a link on the morning of the showing and you will be able to watch the play in the comfort of your own home. There will also be information on how you can donate to AHTC should you choose to do so. AHTC will be giving 10% of any profits to the Alaska Relocation Charity.
Ed: AHTC had to cancel their spring production on the eve of the national pandemic lockdown. But like many creative people they have looked to new ways to do what they do best, produce and present wonderful pieces of theatre.