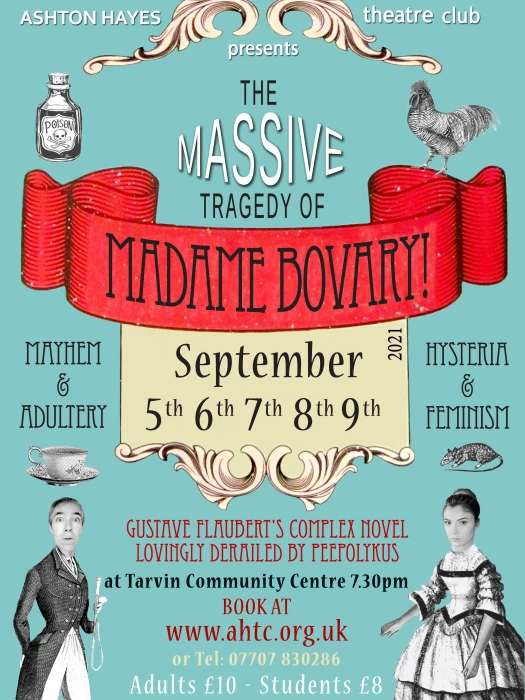 On 22nd March 2020 the cast and crew of The Massive Tragedy of Madame Bovary went to Tarvin Community Centre but instead of running their last technical dress rehearsal before opening night they had to clear everything away and put it into storage because the Government had just announcement of the first Covid19 lockdown from 23rd March. As you can imagine this was devastating, to be so close to putting on the show.
But Ashton Hayes Theatre Club were not to be totally defeated by Covid. They started up weekly zoom play readings which ran throughout the pandemic offering members an opportunity to connect with each other whilst still enjoying theatre, which for some members who were living alone was real lifeline. We read many, many plays some of which are now on our hit list for future productions.
We also filmed a production, When the Birds Fly by Tallulah Brown, with a cast of 2 and a crew of 4 which we filmed within the rule of 6 guidelines and streamed the production live on YouTube.
And now, after one failed attempt last September. we are determined that The Massive Tragedy of Madame Bovary will not be our massive tragedy. The play opens on Sunday 5th September and runs for 5 performances until Thursday 9th September.
Ashton Hayes Theatre Club needs your support, unlike many theatre groups who have their own theatres, AHTC performs in Tarvin Community Centre so we were unable to apply for any grants. We have struggled financially over the last 18 and with the added cost of extra hall hire to rehearse this production again we desperately need to get bums on seats to claw back our debt (not unlike Madame Bovary herself!!)
What we can promise you is a good laugh. This adaptation by 'Peepolykus' brings an exhilarating combination of verbal slapstick, visual surprise and anarchic comedy to Gustave Flaubert's seminal 19th century masterpiece Madame Bovary.
You will Laugh and cry in equal measure as Emma Bovary chooses the wrong husband. Married to a dull doctor, and mouldering away in the country where nothing ever happens, Emma – her head full of romantic novels – turns daily life into fantasy and pays the price.
Prepare yourself for vermin, magic, farm animals, tours of Paris, a carousel house, lots of French people and nuns. A cast of 6 playing 21 roles what can possibly go wrong!!
"It is a riotous tour de force that will tickle your heart and your head as well as your funny bone."
Suitable for ages 12 – 112. PLEASE PLEASE PLEASE come and it see it and bring a friend or your neighbour or cousin or child or parent or the lady who you say hello to in the village shop or your milkman, anyone. Because for AHTC and our amazing cast, 2 bums on seats are better than 1.
We look forward to seeing you there, we've missed you.
PS You can read our Risk Assessments for Covid and BOOK TICKETS at www.ahtc.org.uk
Ed: Click on picture to enlarge the  poster