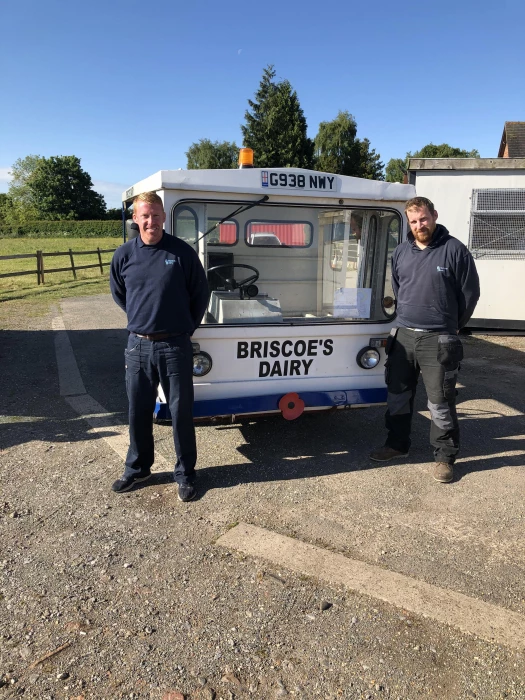 The Covid-19 virus continues to affect our lives and is likely to do so for many months to come. Businesses as well as individuals have had to adapt. Tarvin Online has spoken to a local company to see how things have changed for them.
Briscoe's Dairy has been a part of Tarvin village for over 30 years, though many may be unaware of them as they work quietly in the early hours when most of us are still asleep.
In the mid 60's, Bernard Briscoe ran a family dairy farm in Huxley. The milk was bottled on the farm and delivered locally. His son Graham became involved and expanded the delivery business to the point where farm bottling become too difficult, so the fresh milk was sent to Northern Dairies in Tarvin for processing. In 1989 the business moved to Austin's Hill Farm in Tarvin and continued to expand, offering milk and other essential food items.
Briscoes, like other doorstep delivery businesses, have had to deal with the challenge of supermarket shopping. Ed Briscoe says "We can't compete on prices at all, supermarkets use milk and other essentials as loss leaders. But we have three strong selling points – we are reliable, being their every morning, we have consistency of supply and, with our glass bottles and electric floats, we are environmentally friendly"
At the start of the year the company was in a comfortable commercial position with between 3,500 and 4,000 customers, both domestic and retail, employing 5 family members and 10 staff. The effect of the lockdown on the business was immediate. While some retail customers stopped ordering, the demand for doorstep deliveries surging by over 1000 requests in just a couple of weeks. Deciding to rise to the challenge of serving their local community, the firm worked exceptionally long hours to expand their operations. They have been helped by local suppliers like Bates Dairy, Robert's Bakery and Lloyds Farm Eggs, and those strong, long term relationships have ensured they have delivered the right goods on the right doorsteps on the right mornings.
Ed says, "This has been an extraordinary time for us, one we could never have anticipated or wished for. I am glad we have been able to respond so efficiently and so quickly. I appreciate that we may lose some of these new customers when this is over, but I hope that we will have proved that we have a service and a product that can thrive in both current and future markets."
Editor: The photograph shows Edward on the left , with his younger brother Charlie.