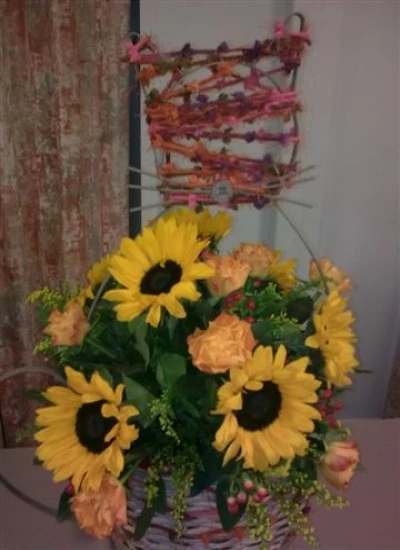 As we do not have a meeting in August here is some information about the club and what it offers as well as some events of interest to both members and non- members.
We are a small, friendly club who meet in the Edna Rose room at Tarvin Community Centre on the 2nd Wednesday of every month at 7-30pm (except Aug. and Dec.) You do not need to be able to arrange flowers to enjoy seeing and hearing a demonstrator. Their talks are usually very amusing and the flower designs a spectacle. These designs are raffled at the end so you may be lucky enough to take one home. After the demonstration we have tea/coffee and biscuits (last month we had lovely home-made shortbread). Visitors are charged £5 a meeting or the annual fee is £32 plus £1 for each meeting attended.
There are some new ideas being introduced next season. Gift cards – costing £5- which allow the holder to free entry to any meeting in the 2015/16 season. This would make a good small gift.
Saturday 12th Sept, 10th October and 28th November sees a 3 day workshop taking place, specialising on Church flowers, special occasion designs, and Christmas ideas .The total cost is £45.
An evening workshop in the Parish Room on 30th November will cost £12 and enable you to make a Christmas door wreath. All that is needed are secateurs or scissors and some holly/conifer.
These workshops need advance booking. Contact 01829-740832
The next meeting will be held at TARVIN METHODIST CHURCH ON 9th September at 7-30pm, when John Brennon will demonstrate "Diamonds are Forever"
October 14th we will see a florist and November 11th will be our Christmas meeting.