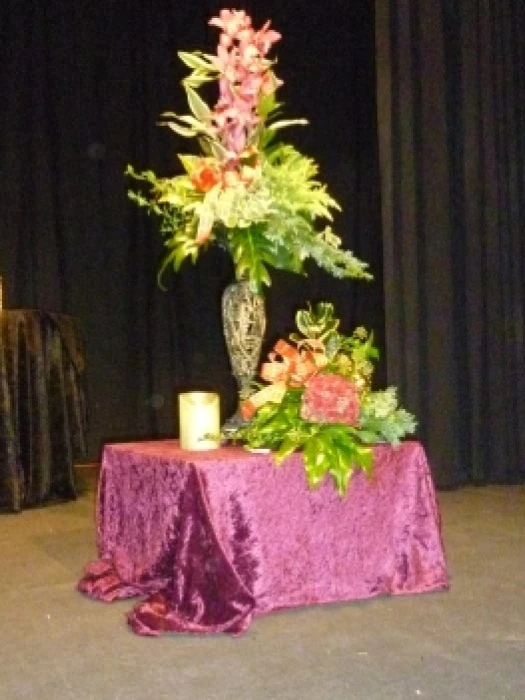 We were not disappointed in our high expectations for an excellent evening when Nigel Whyles came to demonstrate for our Christmas meeting.
There was good support from visitors, many who join us annually for this meeting but also from newcomers to the village. We were very pleased to welcome them all and hope to see them again. The stalls were all attractively arranged and offered some lovely gift ideas. The homemade mincepies were excellent!
Nigel had a relaxed manner and created 7 varied and attractive designs with the addition of extracts of Christmas music between each one which added to the atmosphere.
He started by making a welcome door wreath with hydrangea heads, a little sparkle, a ribbon bow and a few baubles. Very easy to copy but very attractive.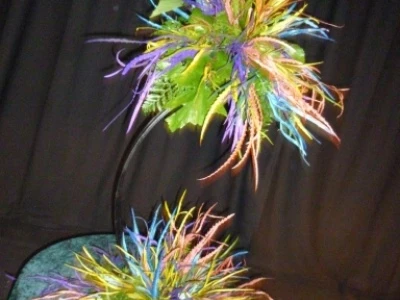 Secondly he produced an all-white design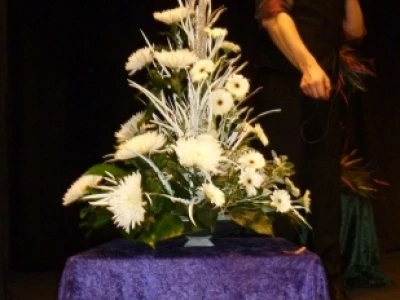 For the 3rd he had an Edwardian style vase and gave us a candle design with a wine coloured cymbidium orchid and ribbon bow to tone- quite stunning.To this he added a smaller similar arrangement.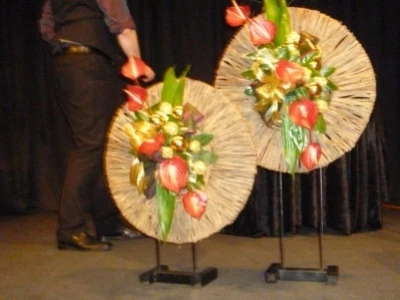 The next design was also a dual one, suitable to stand in an entrance hall. He had large discs covered with twigs and placed small elegant designs of anthuriums . Again fairly simple but effective.
There followed a table centre with a difference- a large wine glass was upturned with a mirror beneath and an all-round design placed on the base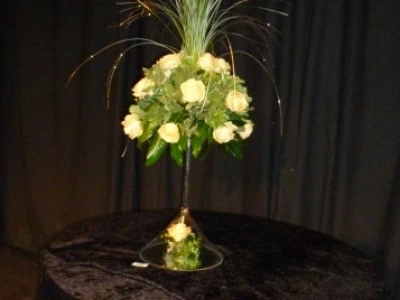 This contained peach roses and a fountain of gilded bear grass.

Design 6 contained no flowers at all. A firework effect was given on a double stand by using coloured grevillea (purple, yellow, blue and pink).For the final arrangement Nigel went traditional with a triangular design in an urn in red and green with a smaller arrangement to accompany it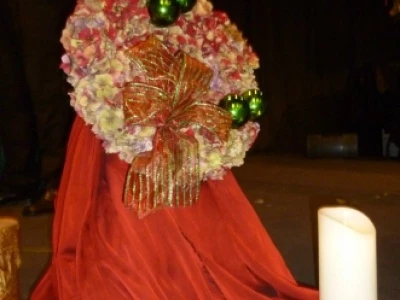 The stage looked fabulous when he had finished- his designs were tasteful and well-thought out but not too large for our own homes. He did give us ideas for "decking our halls" and welcoming our guests without too much glitz)
.
November 30th is the wreath workshop. 7-9.30pm. To book call Merryn.
We have no December meeting but on January 13th we welcome back a favourite demonstrator who is extremely amusing and provides a fantastic evening. She is Sionedd Hughes from N. Wales and her title is "Superstitions" She will brighten up January for us.