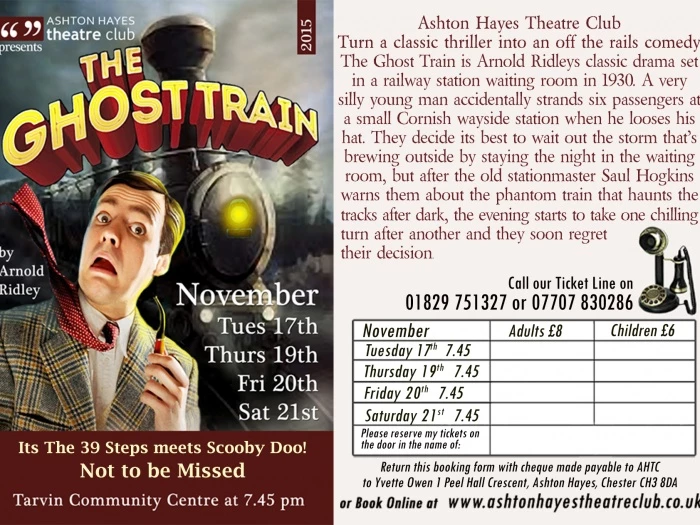 Once again Ashton Hayes Theatre Group delighted almost capacity audiences in Tarvin Community Centre with its performance of "The Ghost Train" Written by Arnold Ridley, who is probably remembered by most people as the much loved Private Charles Godfrey in "Dad's Army", the play was first performed to packed houses in London's St Martin's Theatre in 1925.
It depicts six travellers, thrown together on a wet and windy night in 1930 in the waiting room of Fal Vale station.
I first saw the play, produced by professionals, at the Gateway Theatre, Chester, some 30 years ago, where it was produced as a straight Melodrama/Thriller. However Ashton Hayes Director, Yvette Owen, is to be congratulated on her quirky direction of the play, which she herself describes as a Melodrama/Comedy, and a piece of Theatrical madness!!!!. She, and her actors certainly pulled it off.
Performed in the round, it stretched the acting abilities of all the cast members, and they were all up to the challenge, maintaining in character throughout, which cannot be easy with the audience only feet away in all directions. To add to the intrigue, two members, Mike Howard and Georgina Taylor very convincingly portrayed characters of the opposite sex.
It is invidious to comment on any particular performances, when the whole cast meld together so well, bur Mike Howard's scene as a drunken old french lady, and the performance of the Director, Yvette Owen, who stepped into her part late in rehearsals, when two actresses had to withdraw, deserve special mention.
The remainder of the cast were, Frances Hamer, Owen Monie, Rob Mason, Grace Owen,Phillip Law, Steve Evans, and Jim Whitelock-Wainwright. The cast obviously had a great deal of fun, and Roger Boultbee, Andy Law and Andy Walker supplied excellent lighting and sound effects.
We look forward to Ashton Hayes Theatre Club's next production, and if anyone is interested in joining the club to aid in Lighting, Directing, Acting, Backstage or Set Building they will be more than welcome. Just ring 01829 751943 and put your name down.
Ed: The final performance is tonight at 19:45