"Elvis-Quite Interesting" was the subject for the 1st meeting of our new season. The new committee was introduced before Tina Pound, a florist from Telford, took us back in time. depicting Elvis's life in flowers.
Her 1st design interpreted "Rags to Riches" in the red,white and blue of the American flag.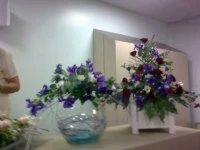 This was followed by "Blue Moon of Kentucky" which is one of 19 songs with blue in the title.
We had a pink Cadillac next in pale pink roses and heard a little of the history of the car and of Cadillacs in general.
When Elvis was recording It needed 1,million sales to achieve a Gold Record. No 4 design celebrated his gold record and the gold lame suit. This was in gold, green and white upright design.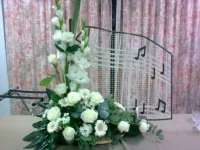 A container shaped like a satellite dish was used to show a visit to Hawaii and his 1st satellite recording.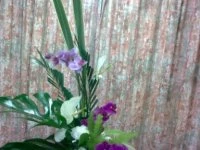 Finally we saw the gates of Gracelands for a stunning design. Gracelands is the 2nd most visited attraction in U.S.A. after The White House.
Our next meeting is on 8th October at 7-30 in the Community Centre when we look forward to "A Mixed Palette" That should be colourful.
New members or visitors are very welcome.
(Ed. Click on the photos to see them full size)