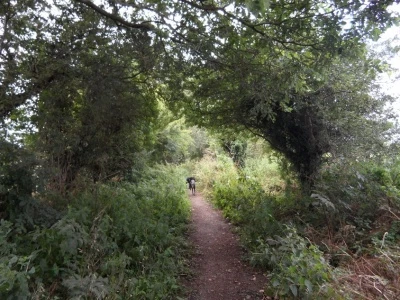 Without doubt, Tarvin woodland is a popular place. Not only do a large number of people use it for pleasure and for fitness, but families can often be seen out walking together and, perhaps most frequently, there are a great many folk who use it to walk their dog. We frequently make the point that it is a community woodland – intended for everyone to be able to enjoy. But, since everyone is different, we all must make allowances for the fact that we all have these differences and what may quite acceptable behaviour for some folk may be totally unacceptable (or even upsetting) for others.
The presence of dogs in the woodland is for some of us a marvellous thing, while others can find it disconcerting or even threatening. The path through the woodland is a public footpath and so the rule is that dogs must be "under control". For some dogs, that may mean that they need to be kept on their lead at all times, while other dogs are considered trustworthy and allowed to run free, just as long as they can be recalled by their owner whenever necessary.
The problem comes when a large, friendly (and perhaps rather muddy) dog bounds up to someone who does not like (or is afraid of) dogs and the last thing that the poor folk want is for the dog to show how pleased they are to see them. Or a large dog might gallop over to a tiny puppy, perhaps out for its first walk and scare both it and its owner, who feels unable to protect their pup. The truth is, that not everyone likes our family dog as much as we do and they have the right to be able to take their walk without having to come into contact with a hound who might be our "best friend" but certainly isn't theirs! Please would all dog owners and walkers take the words "under control" seriously and make sure that your dog does not spoil someone else's walk in our lovely woodland!