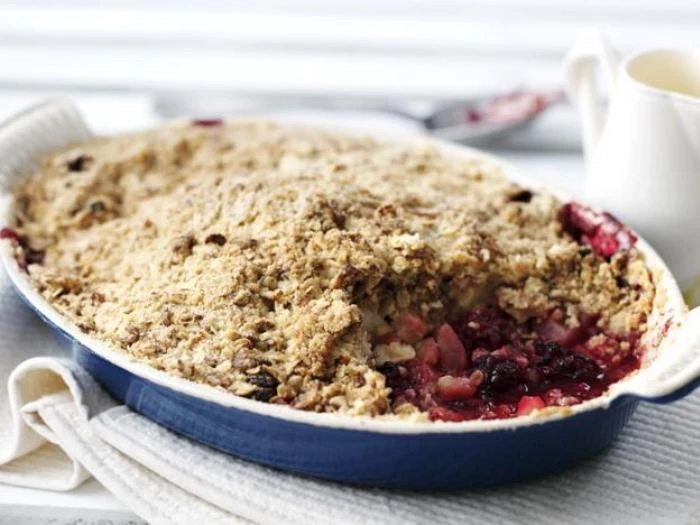 If, like me, when you have been walking around the village you have noticed that the blackberries are starting to darken, then your mind (like mine) might have been starting to wander to what you might do with the marvellous jewels!
Here are two of my favourite recipes to use up natures latest gift!
Apple and blackberry crumble
Ingredients
For the filling
900g/2lb bramley apples
350-400g/12oz-1lb blackberries
175g/6oz demerara sugar
2 lemons
For the topping
225g/8oz plain flour
175g/6oz butter
55g/2oz demerara sugar
125g/4oz muesli or a mixture of oats, seeds and chopped nuts
Method
Preheat the oven to 200C/400F/Gas 6.
Peel, core and chop the apples into small chunks. Cut the lemons in half and squeeze the juice over the apple and mix well. This not only adds flavour but prevents the freshly peeled apples from discolouring.
Layer the apples, blackberries, and sugar in a large pie dish (a lasagne dish is ideal).
Place the flour in a large bowl and then rub in the butter until it resembles breadcrumbs – leave a few lumps of butter so that the topping is not too fine. Add the muesli or oat/seed/nut mixture and the sugar and mix through.
Use a spoon to sprinkle the crumble topping evenly over the fruit. Bake for 45 minutes or until the fruit is cooked and bubbling juices seep through the topping.
Cool for a few minutes and then serve with custard or fresh cream.
Creamy, Crunchy Fruit Sundae (no cooking required!)
Ingredients
1 pot double cream (about 250ml/7fl oz)
1 or 2 large meringues
1 good handful blackberries, or any soft fruit works well
1 small handful shelled unsalted pistachio nuts
vanilla ice cream, to serve
icing sugar, to serve
Method
Whisk the double cream in a bowl. I like to do this by hand as I have complete control over it and I beat the cream until it just starts to feel heavy on my whisk – but don't over-whisk it.
Break the meringues into the cream – rough chunks are good. Scatter in the blackberries (they work perfectly with the meringue as they cut through the sweetness). To break up the smoothness of this sundae I add some pistachio nuts. Gently fold together so that the fruits burst through the cream.
Place a large scoop of vanilla ice cream in the bottom of two sundae glasses and top with spoonfuls of the blackberry cream and dust with icing sugar. This dessert has something soft, something crisp, something sweet and something sharp, which makes it perfection!
My mouth is watering just thinking about them!