Blackthorn
Prunus spinosa
(Also known as the Common Sloe.)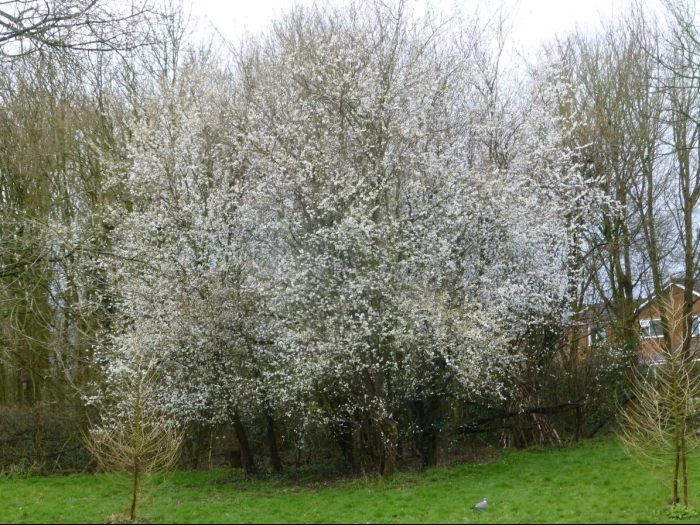 There are a number of times each year when the woodland provides us with a real spectacle. The first of these is the wonderful display of the drifts of snowdrops; those harbingers of spring. The second spectacle is the flowering of that almost un-noticeable and otherwise unprepossessing bush, the blackthorn. For most of the year, it draws no attention to itself, save for giving you a nasty scratch, should you be foolish enough to pick an argument with it. However, when the blackthorn does flower, as it is doing at the moment, the blossom is an amazingly bright white and is singularly prolific. Hedges of blackthorn look as if they have been snowed upon, and blackthorn bushes, such as the large one at the rear of our larch plantation, really do stand out. The spell of bad weather in March that often coincides with blackthorn flowering is known as a 'blackthorn winter' and, at this time of year, it always seems to be cold. This is the reason for the old notion that we ought not think we are moving into better weather until the 'Blackthorn winter' is over.
"Hedges snowy white
East wind blows up trouser leg
Blackthorn winter's here." (An anonymous Haiku)
The blackthorn bush is so named because it's bark is really dark. When it grows in thickets, as is its habit, it creates a dense, dark and almost impenetrable thorny scrub layer, which can provide a sanctuary for much wildlife. It is its ability to make a strong barrier that has meant that farmers have long utilised blackthorn in order to make stock-proof hedges. While it is still without its leaves, Blackthorn can be confused with Hawthorn (Crataegus monogyna). However, the flowers of blackthorn appear before the leaves do: the twigs are still bare, black and spiny, with dormant leaf buds borne along their spine. On the other hand, the flowers of the hawthorn emerge much later (in May, rather than March) and grow from the same buds as do the leaves.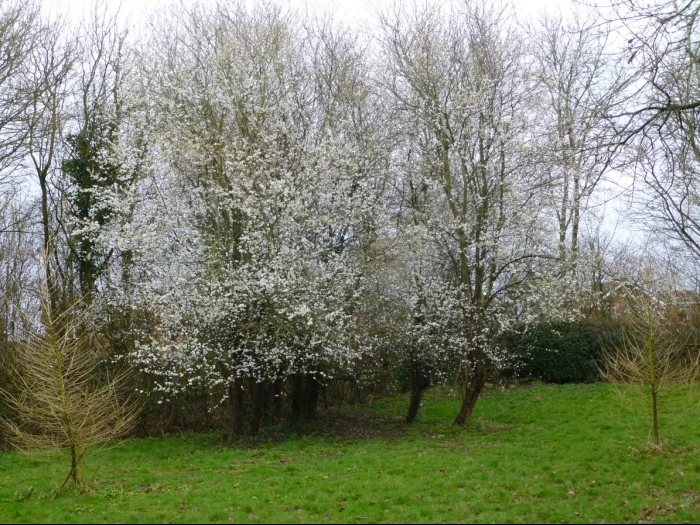 The Latin name of the blackthorn, Prunus spinosa, gives the clue to its two key features. The 'spinosa' part of the name says that it is a very thorny plant, while the 'Prunus' element tells us that it is a member of the prune (or Plum) family. Actually, it is a very important member of that family because it is believed to be the ancestor of all of our cultivated plums. You may not notice the fruit that is produced in the following autumn, though, because the stony fruits (called sloes) are very small. They are too bitter and sour to eat raw, but can taste superb when preserved, having an intense plum taste. Their claim to fame may be that sloes are used to give their flavour to Gin, in order to make the delicious Liqueur "Sloe Gin".