The aim is to show how these beautiful bridges offer some insights into the history of the Platts.
Introduction

The Platts bridges do offer clues to a long and fascinating past. A past of changing times when the climate, the landscape and its people were very different. Few clues survive of this rich passage of time so the detective work goes on and what is lost may yet be re-discovered.
The earliest map showing Hockenhull bridge is Saxton's in 1577 with the only other bridge over the Gowy at Bridge Trafford.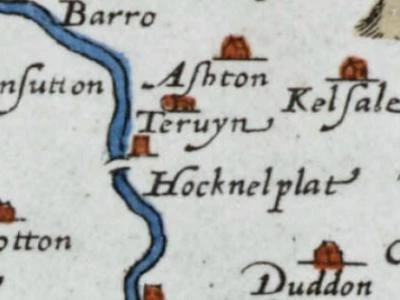 Saxton's map 1577
The absence of Stamford bridge, considered a key Roman bridge, is unlikely an error but rather it had gone. The importance of the Gowy crossing at Hockenhull is evident on Robert Morden's map of 1695.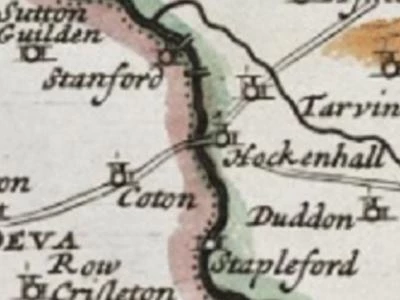 Morden's map 1695
The bridge is shown carrying both a main Roman road across the Gowy from Chester and another, to the bridge from the south-east. These are the only roads on the whole map whereas Ogilby's map of 1675 showed all the principal roads in Cheshire.
The Hockenhull route was, for Morden at least, of great importance.
Hockenhull bridge (East)
Of the three sandstone bridges, this one was recorded in the 14th century bridge, repaired and eventually rebuilt in the 17th century.
Unlike the other two bridges, this bridge retains its simple alignment with a 17t century raised causeway to the middle bridge.
Shapes of bridges
west middle east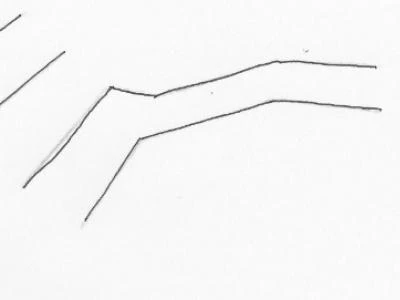 Hockenhull bridge

The three bridges are of the same design, built of local sandstone at the same time and regarded as packhorse bridges. Notice how the design of Hockenhull bridge resembles this packhorse one at Calva Hall, Cumbria.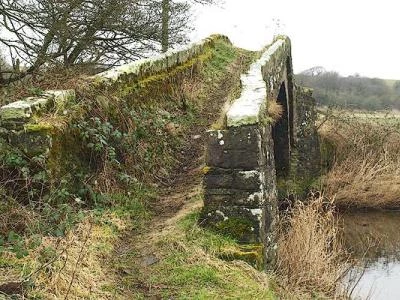 Hockenhull bridge is the closest to a 'true' packhorse bridge.
Ernest Hinchliffe discusses the difficulty of defining a true packhorse bridge in A Guide to the Packhorse Bridges of England. He claims that "before the eighteenth century bridges were described as 'horse bridges' or 'cart bridges'...' and his strict definition excludes the latter. He suggests that a classic packhorse bridge should generally be:
less than 6 feet (1.8 m) in width;
built before 1800;
on a recognised packhorse route;
without parapets but a kerbstone.
This is his 'true' group. However, bridge designs vary according to local conditions such as river size, building materials and usage. In contrast, to the Platts bridges, this one over Acton Brook, in Crowton, Cheshire (below) is also a packhorse bridge.
Acton Brook, Crowton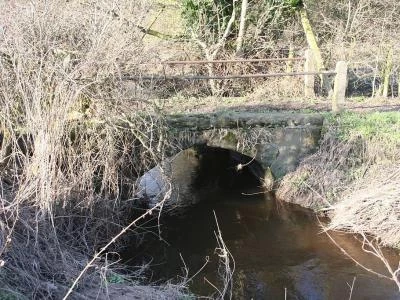 In Part2: Hockenhull bridge's clues will be considered.
Ed: Any comments to David Keogh at dbkeogh@hotmail.com