No early Cheshire maps nor those of the Ordnance Survey (O.S.) show or name the three bridges at Hockenhull. Only a few OS ones at the larger scales record two bridges (not named) and never the east bridge. Surprisingly, the present course of the Gowy appears only after 1930's. No trace of any watercourse or drain to or under the middle bridge occurs before this date. It maybe have been so insignificant as not worth recording though even drains are shown on O.S. maps.
On only two early maps are all the bridges shown. The first was Ogilby's route map of 1675 and then, on the Hockenhull Tithe map, 1839.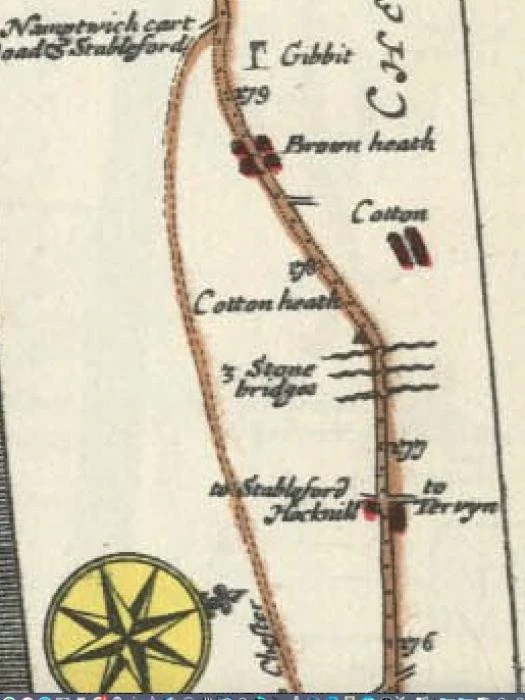 Clearly, the Gowy has changed its position over the centuries. Unfortunately, whereas the 1839 map has the Gowy through the west bridge, Ogilby's map (below) suggests a watercourse through each bridge not a main river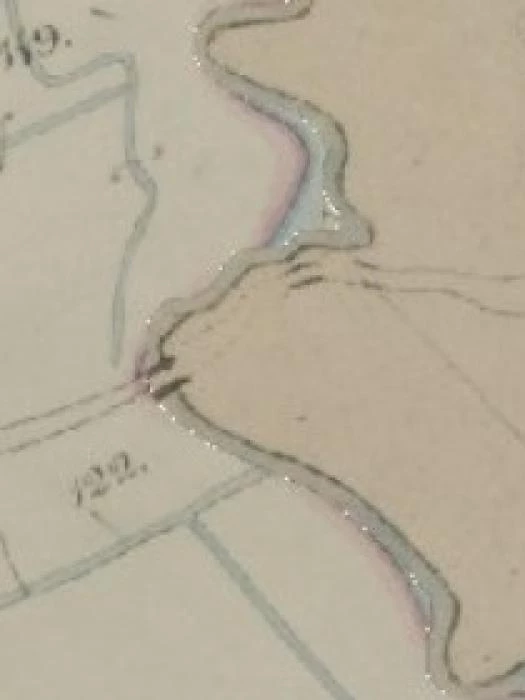 The description attached to the map is revealing:
'whence at 175'6 (section/road marker) through Hocknel another small village, you pass Stone bridges so many rivulets, and enter Cotton Heath.'
This shows three bridges and 'rivulets' suggesting in 1675, Ogilby was looking over a marsh with a confused pattern of channels. He may have assumed water passed under each bridge. By 1839 the Gowy emerged from this marshland as the dominant watercourse as it flowed through the west bridge.
Why it did is open to a range of natural possibilities. Water draining to the lowest point on the Cotton side; a sediment bank diverting water; even a tree log blocking the marsh. More likely would be the sediment moving downslope off the Hockenhull marshland to the east. However, reclaiming land for farming in the 18th and 19th centuries is equally feasible.
It would appear the river 'started' around the 17th century and continued to flow under the west bridge until the 1930's. However, this may not be the case as all the pre-17th maps show a single river and a single bridge. Understandably, these maps have inaccuracies, omissions and simplifications. For instance, such a number of watercourses might be mapped as one. The same maybe true of the recording of bridges. As with most maps the bridge stands out by virtue of the river passing beneath. It depended on the mapmaker whether bridges, mills or other structures were shown and in the right place. Nevertheless, bridges were and remain, important features of the landscape. Despite caution in using old maps the suggestion here is only one bridge stood at Hockenhull before the 17th century. Wooden bridges of any kind had long gone.
The tithe map adds some more points of note. Apart from the main river only a single drain leading to the east bridge is recorded. Again, no other maps show any watercourse through the middle bridge. This is important for today's Gowy because one would expect it formed its own natural channel, in fact, it did not, unless it was not mapped. As will be seen later most of its course belongs to the 1839 course after its diversion in the 1930's
Next: The source of the Gowy.

Comments please to dbkeogh@hotmail.com