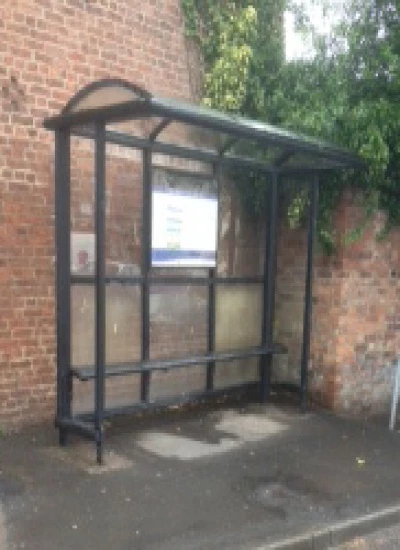 'As part of our recent car parking survey Tarvin Parish Council focused on the congestion caused by the passage through the village centre of the 84 and 82 buses. A recent meeting between Councillors Hones and Shaw-Pollard, the Clerk, and Mr. Andy Nickson (Cheshire West and Chester Council) looked at options to reduce congestion. During the meeting Mr Nickson said the Borough Council has capital funding in this year's budget to upgrade 5 bus stops/shelters, which is excellent news and the Parish Council's advice on how to spend this has been requested.
Council has decided to look at the option of removing the two bus stops from the High Street and will be devising a short survey form to canvas the views of bus users. Passengers coming up Hockenhull Lane for Chester would board buses at the current stop to the left of the junction with the High Street. This would be moved slightly further up the road and would have a bus shelter provided. Passengers for Chester walking up Church Street would catch the 84 opposite the current bus stop near St Andrews Church, and again, a proper bus shelter would be provided. Passengers travelling from Tarvin to Northwich, believed to be a very small number, would go to the existing Hockenhull Lane or Lower High Street stops.
The village centre stops have been used for many years and people have got used to a certain pattern of use.However, the new proposal could mean less congestion in the centre, more available parking spaces for the village and safer travel, as the buses would be able to draw up parallel to the pavement in all places.
It is hoped that a report can be sent to the Borough Council by the end of July. Any resident who would like to make their views known to the Council should contact the Clerk or any Councillor.'
Contact the Clerk direct by Telephone 01829741075 or by email Miketarvinparish@aol.com