By Clive Bright - 23rd October 2013 6:30am
If you asked any cricket-mad youngster to describe a dream day out then they might describe a trip to Lords, or a Test match at Old Trafford; the chance to see their heroes from the boundary edge.
Few might imagine a day that involved meeting the England cricket captain, visiting a bat factory of a leading bat maker and selecting a block of premium willow to be made into your own bat!
Such a 'dream day' was a reality for Cameron Bannister-Wright, aged 11, from Tarvin. When Cameron's granddad completed a national newspaper competition the family had little idea they would be successful. But 2 weeks ago Cameron and his Dad, Ian, awoke at 2am to drive the long journey to the Gray Nicholls factory in East Sussex. They had won the opportunity to meet captain Alastair Cook who was selecting 5 bats to take on the forthcoming Ashes tour. No doubt the idea of a day off school and the prospect of such an exciting day made the 5 hour journey more than tolerable and eager anticipation probably explaining why they arrived at the factory gates an hour and a half early!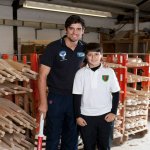 However, as any good batsman knows, timing is key, and having arrived so early Cameron was fortunate to spend 20 minutes '1 to 1' with Cook before the factory tour began. Both Cameron and his Dad described how friendly and down to earth Cook was as he discussed cricket and explained what he looked for when selecting a bat.
(Ed. The photo shows Cameron Bannister Wright in his Oulton Park Cricket shirt with England captain Alastair Cook. As ever click photo to enlarge)
Along with 4 other competition winners, Cameron and his Dad then spent time touring the bat factory and being taken through the entire bat making process from raw timber through to finished article. To top the day off Cameron was then invited to choose his own piece of willow from that of the same stock as Cook and other members of the England team. In due course Cameron will be receiving a brand new Gray Nicholls 'Dyna Drive'. Roll on next season!
For Cameron, himself a leading light with both bat and ball at Oulton Park where he plays his junior cricket, this was a fascinating and exciting day that undoubtedly created many memories for the family archive. Summing up the day Cameron said "I felt nervous but excited by the day. Alastair was really nice to me and explained loads of things about the bats". Mum, Wendy, who runs Tarvin Petcare, said: "It was a great experience that Cameron will never forget".
So when you are watching Alastair Cook open the batting in the winter's Ashes in Australia, remember more than likely he will be using a bat selected with the help of Cameron!