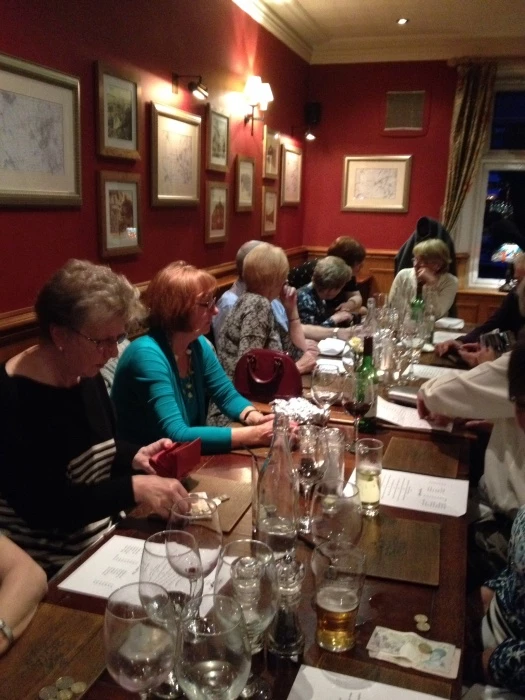 The members of Tarvin Meeting Point met last night (April28th) for their annual dinner. This regular event, which is the social highlight of the year, also includes partners and husbands.
This long standing group has been a feature in the village since 1969 when it started as the National Housewives Register. It reflected a need at that time for companionship when the number of mothers who went out to work was much lower than it is now. This was a time when a single wage was often sufficient to pay a mortgage and run a family, though there were many at that time who got to the next pay day by the skin of their teeth. Being at home with young children with few outlets for their talents, NHR gave women a space to discuss and explore issues that were most definitely NOT domestic. The provision of nursery schooling certainly, but the tales of little Fred's day at nursery, no way. This break from domestic responsibilities was most welcome.
The Tarvin Group became part of the National Women's Register in 1987, a new name that reflected changing times and the changing status of many members. In 2012 the Tarvin group decided to leave the national organisation, but the purpose and ethos remained the same – lively discussion that is generated from members own research, a wide range of topics tackled and mutual support and friendship.
Though both the local group and the national organisation seem to have a stable number of members, there is no doubt that the age profile has changed. In Tarvin most of the 20 members are in their 60's and recognise rather ruefully that, however lively-minded they believe themselves to be, they might not be the most likely destination for a house-bound 20 year old looking for some 'me 'time. Younger women juggling work and families may be short of both time and energy for outside activities and of course work itself will give the stimulation and interest that earlier young Mums lacked.
However if there are younger women in Tarvin who hanker after something different and feel that the National Women's Register night satisfy that need, then a trip to the websitewww.nwr.org.uk will be an invaluable guide to getting started.
As for Tarvin Meeting Point, there is always a place for more lively-minded women of any age. Contact Sue on 01829 741962 for details.