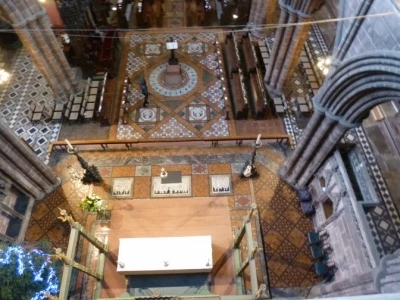 On the evening of 13th January members of Tarvin Civic Trust enjoyed a presentation at the Community Centre by Nick Fry, TV actor and Chester Cathedral Heritage, Visitors and Exhibition Manager on the Cathedral's Treasures.
Inspired by Nick's talk, TCT members Roy Brereton, Richard Chaplin and Mark Wyatt, embarked on Chester Cathedral's guided tour, Cathedral at Height, which, as the name suggests, took them right to the top of the cathedral tower and along the galleries overlooking the aisle.!
Even on a cold and grotty day, the views over the city and surrounding countryside from the top of the tower were truly spectacular.
Inside, from ground level looking up, the building's structure is pretty impressive but from up in the galleries looking down, it is awe inspiring.
There are 216 steps to climb to the top of the tower and the stairways are very narrow so one needs to be fairly fit to undertake the tour but the trip is well worth the effort.