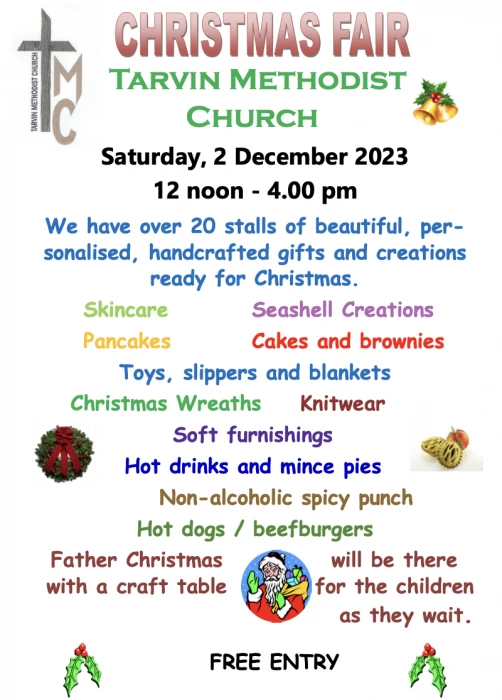 As most are now aware, Tarvin Christmas Market cannot go ahead in 2023.
Recognising how much we will miss this much-loved Christmas Event and how much local organisations rely on the Christmas Market for much needed fund raising, those lovely folks at Tarvin Methodist Church have come up with the next best thing... We may not be closing the street and having a Street Market, but that doesn't mean we can't have a Christmas fair at all... and there is a rare chance to see upstairs at the Chapel too... as it is a very rare and special treat, Father Christmas has the honour of having his grotto upstairs!
The Methodist Church has always been an integral part of the Christmas Market in Tarvin so it makes sense for this to be the venue for an alternative base for the start of the Christmas celebrations in Tarvin.
Starting at 12 Noon and continuing until 4pm, come along and tell Santa what you want for Christmas, have a delicious cup of Sues famous spiced punch or a cup of tea and a mince pie, browse the many stalls on offer and support your village organisations while getting some great gifts for your loved ones.