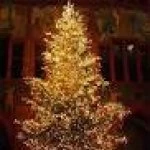 Earlier today we wrote that the 2013 Tarvin Christmas Market which was planned for Saturday evening, 30th. November, has had to be cancelled.
We have just received an email from Charles Bradley with the good news that the Tarvin Methodist Church Christmas Tree Festival WILL CONTINUE ON THAT WEEKEND despite the 'outdoor' bit being cancelled.
The Tree festival had been planned to take place before the street market was proposed and Tarvin Methodist Church happily agreed to join in with the organisation when a larger event was planned
So not all of Tarvin has had to abandon its plans!