By Ted Lush - 14th January 2014 6:00am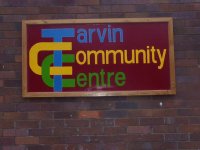 From April 1st 2014 Ted Lush takes over the Treasurership of the Community Centre from the very successful reign of Richard Orfanelli. The new honorary Auditor will be Ray Williams.
The new finance team would like to thank Richard and Wilf Thompson, the former honorary auditor, for all their hard work over many years.
The last few years has seen, under the Chairmanship of Alan Wilkinson, the financial strength of the Centre grow. Of course this is not due to Alan's efforts alone, but to the Committee of Management that supports him, week in, week out.
Together this team has brought a much wider range of events to the Community Centre for residents to enjoy. It has also begun to invest in improvements such as more comfortable seating, new flooring, a better sound system with a hearing loop, stage lighting, car park improvements, a modern screen and projector system and wi-fi. There is still more to do.
At the moment the Community Centre has accumulated about £30,000 which will be used to improve the Centre further, making it even more pleasant and more marketable.
The current investment priorities are to replace the ceiling and lighting in the Edna Rose room, to extend and refurbish the kitchen and to establish a lounge/ bar in a room off the main hall currently used for storage.
Most of you will recognise that £30,000 will not pay for all these improvements, so the Committee will need to successfully apply for grant aid from outside bodies to supplement its own resources.
However until a new 25 year lease with the building owners, Cheshire West and Chester Borough Council (CWaC) is signed most of this work will not start. This is because most grant providers require an applicant to have a long-term lease. The Committee started negotiations on the new lease with CWaC in March 2011 and as at January 2014 it has still not been signed. As you might imagine this situation has proved immensely frustrating to the Committee and particularly the Chairman who is desperate to get on with the improvements identified above.
Even though a new lease has not yet been signed the Centre has been operating as if it were in place for nearly two years. This means that the hours available during the day for community events and lettings have been managed by the Committee, the caretaking/cleaning arrangements have been improved and the grounds have been improved.
The Committee hope that the new lease will be signed soon and to this end it is applying as much pressure as it can on CWaC.
(Ed. Ted Lush is the Parish Council representative on the Committee of Management).