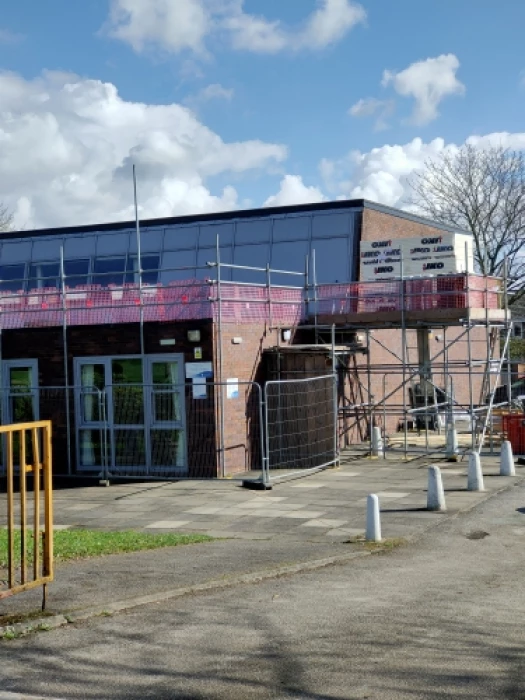 Many users will know that the Community Centre flat roofs are liable to leak, particularly after heavy rain. Over the years the roof has been patched up, not successfully, more than 20 times. However, on Monday 27th March work began replacing the roof over the Edna Rose room and this will be extended to include the other rooms occupied by the Centre on that side of the building. Once this work has finished it is planned that work will commence on the other side of the building i.e. the roof over the Wilkinson Lounge.
The Committee, who manage the Centre on your behalf, are delighted that our landlord, Cheshire West and Chester Council, is investing in the building.
The first phase of the work should be finished in time for our next live event in the Hall. This will be Mitch Benn, the acclaimed comedy singer and instrumentalist, who appears on Saturday April 22nd. You can buy your tickets online or from the Post Office. The next theatre production is "The Shoddy Detective" on Wednesday 17th May when hopefully all the roof work has been completed. The Shoddy Detective has played in London and the production in Tarvin is just prior to their appearance in Keswick at the Theatre by the Lake.
The Committee hopes that as many locals as possible will support these 2 events. Our community is very lucky to have such good entertainment facilities which allows us to attract really great professional productions.