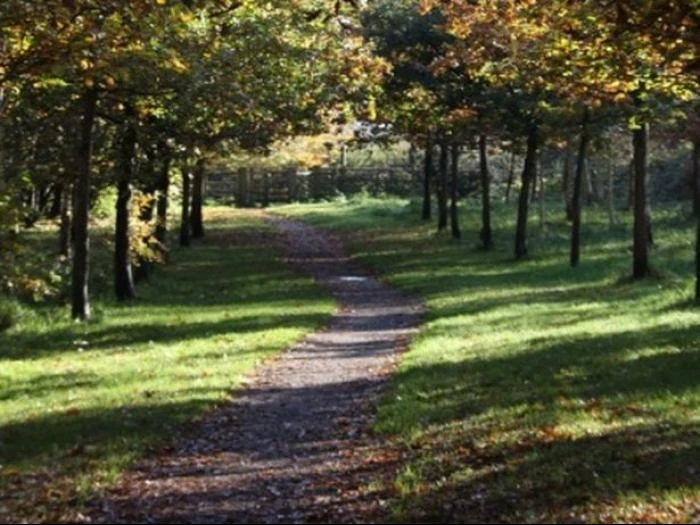 The Trust held its last meeting of 2020 on 6th March, with the lock-down following soon thereafter. All of the Trustees, for one reason or another, have been shielding during the period pre-vaccinations and so, while we have enjoyed using the woodland for our exercise (as has much of the population of Tarvin – look at the width of the paths!), no one did any work in the woodland during 2020. Perhaps unsurprisingly, Mother Nature seems to have coped well without our aid and there seemed little point in calling meetings when no one was doing anything very much.
By May 2021, all of the Trustees and volunteers had received their two jabs and so we felt that we ought to meet once again, to begin our planning for this year's work. Our first meeting of Trustees was held on Zoom. Many of you will be far-too-familiar with the joys of Zooming. We decided that once was enough for us and that we needed to bring folk together around a table – even if it was to be done while we were socially distancing and outdoors! Fortunately the weather was immensely kind!

Most of the discussions have centred on Trust housekeeping – how can we safely hold a meeting of our members in order to accept the last two years' accounts, can we manage to run the Trust with fewer formal meetings, how might we rejuvenate a now-smaller and certainly older Board of Trustees, when should the next village newsletter be published? However, one thing dear to the hearts of Trustees (and very popular amongst the Tarvin younger generation) is Apple Pressing Day. We decided that we would be brave and commit to running it on the first Saturday in October 2021.

However, mature reflection brought a re-consideration. No one is reneguing from the commitment to TRY to run an apple pressing day but to decide on a date and the organisational details as early as July – 3 MONTHS AHEAD! – is clearly foolhardy. The modified situation as it stands at the end of July is therefore that:-

1. We will try to run an apple pressing day in early October.

2. We will meet again in early September to see if we believe that we can run it safely.

3. Once that decision is made, we will go public with whatever details apply.

Like everyone else, we now must wait and watch. Hopefully, the safety precautions necessary to keep everyone safe will gradually return to those we normally employ and are fully-familiar with. If that is the case, then the first Saturday in October will be Tarvin Apple Pressing Day. Wouldn't (Won't) that be wonderful?