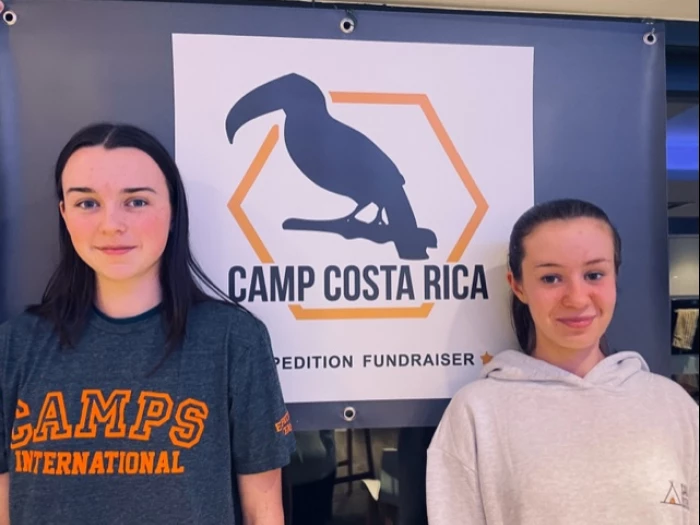 The Tarvin "Best of British" trail will take place between 29th April and 14th May, hopefully bringing the Tarvin community together in the hunt for displays in gardens and shop windows.
The event is part of the fundraising efforts for two local Tarvin girls to take part in a one month expedition to Costa Rica in July 2024. Erin Parr and Tamsin Dodd are 15 years old and both attend Tarporley High School, and each need to raise £5000. TarvinOnline met up with them to find out more about their expedition, fundraising efforts and the "Best of British" trail.
Tell us what you'll be doing in Costa Rica?
It's a 4 week expedition and we'll be moving between 4 different areas. The main focus is on local community and conversation projects. We'll be helping to build new schools and houses, supporting communities who haven't benefitted as much from Ecotourism in the country. We'll also be supporting vulnerable rainforest habitats, endangered species and wildlife at threat from human activities, for example building beehives, supporting reforestation and lime washing trees.
How will your work benefit the local communities in Costa Rica?
The main focus is on helping building better educational facilities for the indigenous communities who have missed out on the countries economic development. We will be living and working with developing communities who live in very different conditions to how we live in Tarvin. We will be involved in building a Special Educational Needs Centre and also a Community Playground Construction project.
What do you want to personally gain from the whole experience?
We will massively be pushing ourselves outside our comfort zone, building our independence with being away from home for a month. We hope it will make us more resilient and open our minds to completely different cultures, including new food, which we are both looking forward to. We will gain a lot of satisfaction from knowing we helped make a small difference to the communities we are living with and the endangered species we work with.
Taking responsibility for our own fundraising is also a very important part of the process. It's a lot of money to raise, and it's hard work. We're trying to front up all of the activity we are doing so people know it's us doing the work, not just our parents. This isn't just a 4 week expedition to Costa Rica, this is an 18 month project where we have to plan, budget and organise our fundraising efforts.
It really is the opportunity and experience of a lifetime for both of us.
Why are you doing a Tarvin "Best of British" Trail?
We know that it's something that has worked well in the past, with Home for a Gnome etc. It not only involves the whole community but also local businesses, and we have been ensuring we personally talk to a lot of them face to face when asking for their support.
This trail is involving the community we have grown up in in, we also want to support our local community which is why we will also be supporting a local charity, The George Heath Foundation.
How will the "Best of British" Trail benefit the Tarvin Community?
We are hoping the event really brings the local community together during a time of national celebration. We'll be doing the trail with our families and grandparents, so something that brings all generations together.
We are hoping that families work together to create their own displays, something for them all to do, and the Easter school holidays are a perfect time to make the display.
We want to avoid just asking people for money to help our fundraising without giving something in return, so hoped the trail is giving our community something fun, positive and enjoyable to do.
We also want to give some of the money we raise to The George Heath Foundation, a group which also gives so much to our local community.
What next for your Fundraising efforts?
We've been really busy up until now to try and get ahead of ourselves, and have been really lucky that Tarporley High School, Tarvin Community Centre and The George Heath Foundation have supported us by letting us sell refreshments at some of their events.
We now need to focus on our GCSE's so won't be doing much other than this trail until they are finished.
But we plan to have stalls at the Tarvin Village Fete and Christmas Markets, maybe arrange a Race Night. We're both working over the summer holidays earning money by getting jobs. Erin is planning on doing to Coast to Coast bike ride for sponsorship and Tamsin will be offering Wreath making events nearer to Christmas.
But if anyone has any ideas on how we can raise money, please get in touch.
Finally we want to thank everyone in Tarvin for your support and hope you really enjoy taking part in the Best of British Trail.