Recently the wonderful sight of a flock of Lapwings has improved my trips into Chester down
the A51. As you're stood in the traffic on your approach to the Stamford Bridge lights look into the fields on the left hand side and you are likely to see a lot of these delightful little birds.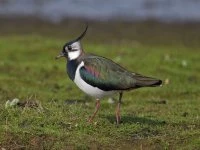 The Northern Lapwing, Green Plover or Peewit (due to the sound it makes) is a resident of
the British Isles and sometimes migrates to the UK and often winters in lower level farmland. However, numbers have declined significantly over the last few decades and in 2009 Lapwings were added to the UK red list of birds of conservation concern.
You may find these beautiful crested birds spread out over the field all facing the same way or if you're lucky you'll see them flock in their dramatic wavering flight (hence the name Lapwing). Either way, I promise they will brighten your trip into town whist you're stuck in traffic or if you are a passenger in the car.
Photo courtesy of Andreas Trepte www.photo-natur.de.