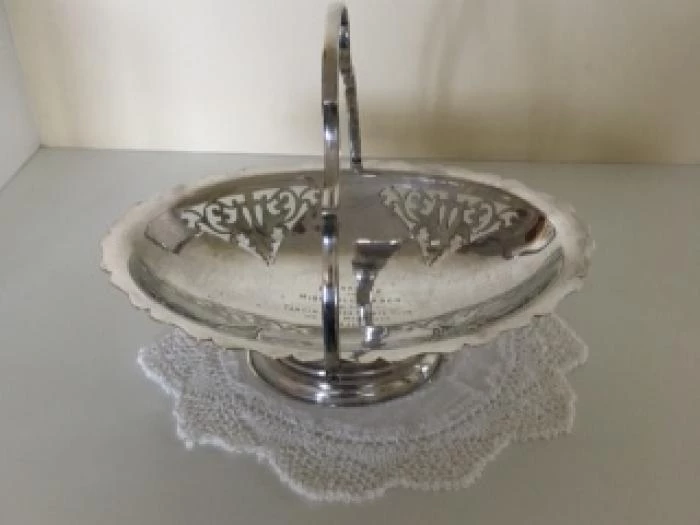 I refer to a dish that was recently given to Tarvin Tennis Club and reported on TOL on 29th October. It was inscribed – "Presented to Miss Wilcockson on the occasion of her marriage by Tarvin Ladies' Tennis Club" 1923.
All that was known at the time was that Miss Wilcockson was likely to be the daughter of the Vicar of Tarvin Church and that a Ladies Tennis club, founded in 1903, played near a house numbered 25 in High Street.
Peter Collins provided information about a daughter Marjorie and of her marriage to a man called Ayrton Paris. He referred us to a picture in the Church of a floral arch across the High Street with the words "God Bless to the Happy Pair". We presumed this to be the daughter who received the bowl------------
However, Jo Houlbrook from the present Tennis Club took up the story and found a marriage certificate for Isabel Wilkcockson, dated 1923. She married James D. Pearson who was to become vicar at Tarvin in 1940. With this new information I contacted Jacky and Tony bland who very quickly found relevant sections in Tarvin Parish Magazine, dated January 1924.
"The marriage was solemnised at St Andrew's, Tarvin, on 18th December, of the Rev. J.D. Pearson, B.A., Curate – in – charge of Kelsall and Miss Isabel Wilcockson, elder daughter of the late Rev. J.H.Wilcockson,M.A. who was vicar of Tarvin until his death. The happy event had a great interest to the people of Tarvin and Kelsall, but owing to the recent death of the bride's father the ceremony was kept private"
Isabel was given away by her brother W.H. Wilcockson and she wore a grey costume and matching hat. She was accompanied by the bridegroom's sister. The best man was Rev. G.S. Payne, Rector of Delamere and the officiating clergy were the Rev. Lewis Edwards M.A., Rector of Llanwrog (brother in law of the bridegroom) and the Rev.C.A.B. Paris, Rector of Kettlethorpe.(Marjorie's husband)
The couple motored to Hartford en route for London where the honeymoon was spent. In the same magazine we are told that on 14th December in Tarvin C.E. School Mrs Moreton, on behalf of Tarvin Ladies' tennis club , presented Miss Wilcockson with a silver cake basket. So the fruit bowl was a cake basket and both the Church and the Tennis club have found out some interesting information with only a little detective work.
We still, however, don't really know where Miss Wicockson played her tennis.