Cheshire West and Chester Council has a new 'poster girl' to help tackle dog fouling in the borough.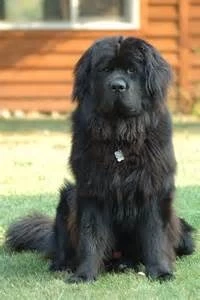 Mabel, a Newfoundland, will attend events and visit schools to help spread the word about good dog ownership.
The campaign will also highlight the dangers of dog fouling to children, the toxocara parasite found in dog mess can cause blindness.
Councillor Lynn Riley said: "Who better to spark conversations about the problem of dog fouling than one of our four-legged friends? Mabel is sure to make a huge impact in our campaign; as the star of our roadshows and campaign materials.
"This wide-ranging campaign builds on the work already underway in the communities across Cheshire West and supports our belief that everyone should enjoy clean and safe neighbourhoods.
"Cheshire West is no different to anywhere else in the country. The borough has no more or less a problem with dog fouling.
"But we are aware that there are some hotspot areas and they will be specifically targeted to improve the environment and quality of life for our residents.
"The message is simple: Bag it and bin it – any rubbish bin will do."
Dog fouling can be particularly dangerous for children. In one confirmed case in Winsford, a young women caught the toxocara parasite from dog dirt on a local playing field when she was three years old. Children are particularly susceptible to the parasite, and she is now 80% blind in one eye.
Fiona Reynolds, Director of Public Health said: "The biggest threat to public health from dog fouling is toxocariasis – an infection of the roundworm toxocara canis. Symptoms include eye disorders, vague ache, dizziness, nausea, asthma and, in extremely rare cases, seizures/fits.
"If you or your child have come into contact with dog fouling, be sure to wash your hands thoroughly. If you urgently need medical help but it's not life threatening, call the NHS '111' helpline."
The council's campaign will consist of awareness raising, community engagement and enforcement.
Leaflets, posters, events, school visits and social media will be used to raise awareness of the issue and promote good dog ownership. Responsible dog owners always pick up after their pet and anyone caught letting their dog foul can face a fine of £75.
This project has identified hotspot areas and communities with a dog fouling problem will be given 'Pink Poo' toolkits to tackle the issue. Here residents use spray paint to highlight the problem – particularly to offenders – to let them know that someone is watching. The Council's Streetscene Team will then move in quickly to clean up the problem. This initiative has the added benefit of clearly pinpointing the unwanted deposits to children, who may otherwise have stepped right into the mess.
Posters from a national campaign, launching in March, will also be displayed in hotspot areas. They feature glow in the dark eyes and a message warning irresponsible dog owners that they are being watched.