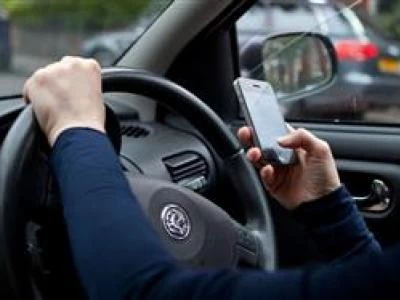 It's illegal to use a hand-held phone or similar device while driving or riding a motorcycle.
The rules are the same if you're stopped at traffic lights or queuing in traffic.
The facts

Studies show that drivers using a hands-free or handheld mobile phone are slower at recognising and reacting to hazards.
Even careful drivers can be distracted by a call or text – and a split-second lapse in concentration could result in a crash.
The law
It's illegal to use a handheld mobile phone while driving
This includes holding and using your mobile to make a call, look at a text or check social media. It applies even if you're stopped at traffic lights or queuing in traffic.

If you're caught using a handheld phone while driving:
You'll get 6 penalty points on your licence and a fine of £200.
For new drivers, if you get 6 points in the first two years after passing your test, you will lose your licence.

Using hands-free devices

You can use a hands-free phone while driving but you can still be prosecuted if you're not in proper control of your vehicle.

Hands free for calling is permitted when used safely, through technology such as Bluetooth and in-car voice activation.

Mobile phones may also be connected to car "infotainment" systems – but the driver must not hold the phone at any time while driving.

A mobile phone can be used for navigation if it is hands free and should be securely mounted in a cradle.