On 22nd January 2016 local Eddisbury MP Antoinette Sandbach visited Tarporley High School & Sixth Form College, following an initial request through her Twitter feed from Y13 student, Olivia Gregory.
As an active member of the Sixth Form '2015 Committee', Olivia was keen to build on the success of our General Election Hustings debate and ensure that Sixth Formers remain engaged in politics.
L-R: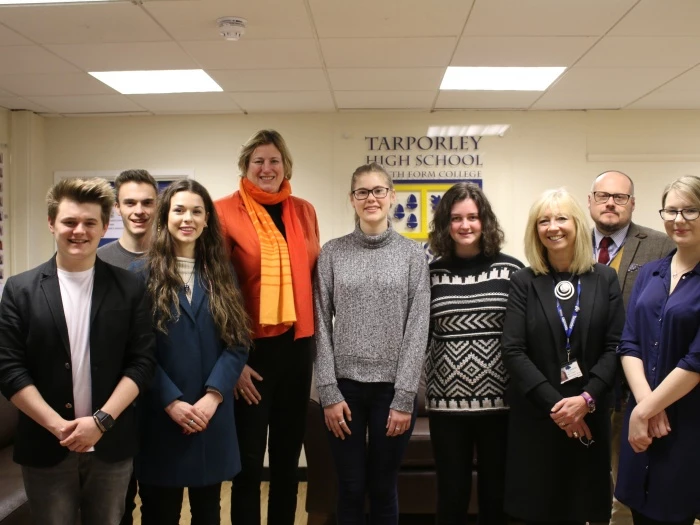 Head Boy Matty Davies, Deputy Head Boy Sebastian Ziman, Candidate for the NY Youth Parliament Sarah Stearne, MP Antoinette Sandbach, Head Girl Lucy Millington, 2015 Committee- Olivia Gregory,Mrs Everton Sixth Form Pastoral Manager and Mr Nuttall, Director of Sixth Form,2015 Committee- Rhiannon Price
After meeting Olivia and a small group of students, Ms Sandbach addressed Sixth Formers and provided an insight into her own interesting entry into the political arena. Ms Sandbach stressed the importance of young people utilising their huge power by not only voting but also becoming involved in political parties so that their needs are heard and addressed. Thereafter, there were questions from the floor centred around local, national and international issues, covering such items as the loss of the Chester bus service, the EU Referendum, Junior Doctors and the Syrian crisis.
Director of Sixth Form, Chris Nuttall added, "It was a privilege for our Sixth Formers to welcome Antoinette to our school and I would like to thank Olivia in Y13 for being so proactive in instigating the visit. We believe it is vital that young people engage in politics and we were so impressed by our articulate students who posed a number of important questions. Thank you also to Antoinette for giving her valuable time to listen to the young people of her constituency."
Olivia now plans to form a petition and campaign about the difficulties caused by the recent reduction in the bus service to Chester which was a hot topic during the debate.

Ed: Ffion Eaton is Assistant Headteacher at Tarporley High School