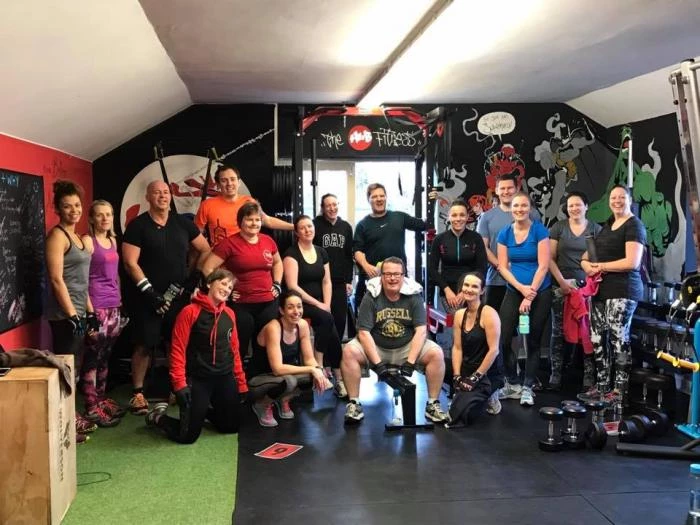 With January being the time for good intentions and a desire to shrug off the excesses of the Christmas period, Tarvin Online has been to have a word with the village's own fitness expert, Luke Judge, who runs The Hub at Sheaf Farm, Stapleford.
Luke comes from north Lancashire but has lived with his family in Tarvin for 3 1/2 years. His journey to his current profession is an inspiring one for Luke was invalided out of the army after an accident damaged his spine. In severe and constant pain, his weight gain and dependence on pain-killers led to increasing depression. To discover more about his condition and to try and find a way forward, Luke started to study exercise and nutrition, and, as he gained knowledge, he found he could regain control of his condition, in time creating not just a healthier body but also a successful business. He is now fully qualified as a personal trainer and nutritionist and, though his injury has not been 'cured,' he can keep the consequences of it at bay.
The Hub opened in November 2015 and is not a gym but a personal training studio. To the inexpert eye the space looks more like a medieval torture chamber with its collection of very High Tech equipment, but Luke stresses that individuals follow programmes tailored to their specific needs and goals. His aim is to combine exercise and nutrition to help people get strong, flexible and fit enough to do whatever else they want to do. Though weight loss is often a consequence of all this commitment, Luke aims to reduce body fat and increase lean muscle. About 60 individuals make use of The Hub, and, though sessions are held either for individuals or small groups, Luke stressed that a very real camaraderie had developed and joint activities and social events are now a regular feature.
Tarvin Online asked Luke for his advice to anyone thinking about getting fitter and he was quite clear, "Get moving and keep moving! Fitness is not a quick fix, but should be simple, incremental and enjoyable." Though very successful, the regime offered at The Hub might not suit everyone. However, there are many other places locally that offer a variety of inducements to get off the sofa and get moving. The Community Centre offers classes from gentle Tai Chi to the exuberant Zumba. A quick internet search revealed 53 gyms within a 20 radius of Chester, so there is plenty of choice to suit all needs. However, if none of those appeal, a brisk walk through the the Tarvin Community Woodland is a great way to start your fitness journey.
For more details of The Hub, including opening times and cost, go to www.thehubfitness.co.uk or call Luke on 07727 119417