On Monday 3rd February The Gunnery will be hosting a night of pure chance.....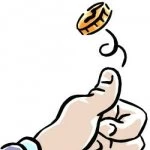 Every diner that books in for the evening will be given a chance to get their "Food Free!"
At the end of each meal each diner will flip, if they get heads, their food is free (If win – only food free. Drinks will be charged at full price) Simple
Now we can see this is going to be a popular night so please do book in advance as there won't be many tables left on the evening itself!