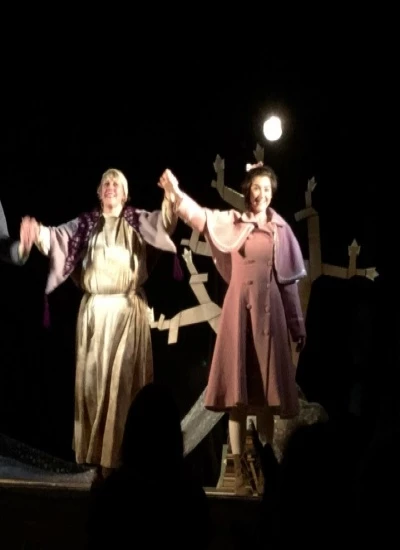 A full house of 145 people were entertained on Saturday (Dec 6th) to a wonderful musical and modern interpretation of The Snow Queen performed by Relative Pitch Opera.
Not only were the tickets sold out some days before but people were actually turned away at the door. Over 50 tickets were sold through a new on-line ticketing service. The Community Centre is delighted that good quality theatre can attract such an audience and we were very sorry to have to disappoint some people
The play was quite a complex piece with three actors playing a number of parts. With the characters on stage all the time there were some subtle and clever changes of identity, costume and props. It was a work that demanded, and received, concentration from the audience. The singing was powerful and the diction clear, carrying the story along with pace and verve. During the interval the cast remained on stage and spoke to many younger members of the audience, which was much appreciated and helped connect the audience to the play.
Sue Hardacre, who acts as a promoter for Cheshire Rural Touring Arts shows said "I was delighted that the young audience responded so positively to the show. It required their full attention and they were very willing to engage with the performance. I think we have learned a valuable lesson and that where a play is described as a 'family' show we will encourage children to sit with their parents so that they can share the experience. When we have a 'children's' show, then we can have the little ones at the front so that they can enjoy the intimacy of the piece."
The Community Centre will continue its collaboration with CRTA in 2015 and already has plans for another children's play for March