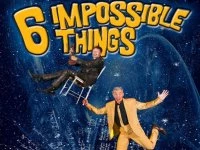 On Friday evening (Nov 1st) an audience of over 65 people came to the Community Centre to see the latest Cheshire Rural Touring Arts production, 6 Impossible Things. With ages ranging from 6 months to over 80, no one was quite sure what the evening would bring, but the smiles, chuckles and laughter that ensued during the performance proved that the evening was a great success.
Bill and James, Avanti and Artizani respectively, engaged the audience in a display of magic, physical theatre, comedy and technical wizardry. From simple tricks to spooky illusions – where did Bill's head go to? – the audience were never quite sure what was coming next. And when animatronic puppet Maureen turned into a 12 foot high, inflatable, red lobster the audience was suitably entranced.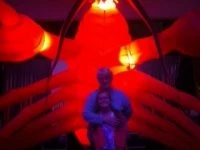 There had been some discussion about the suitability of the show for younger children, but, on reflection, the later timing of the show was probably right. Some of the content may well have been a bit too much for very young children, though the older ones who came could not have been more enthralled.
What was interesting to find out during a talk to the performers as they were dismantling the set – a 2 hour process after the show – was that the piece was still being developed as they toured. It is quite likely that Tattenhall, who were promoting the show on Saturday evening, would see something slightly different. A creative, cabaret piece like 6 Impossible Things is rarely a static piece of theatre, but changes and develops as the artists perform it and take notice of audience reaction.
Sue Hardacre, who looks after the publicity for the Community Centre said "It was great to see so many people willing to take a chance and come and see something that was so hard to define beforehand. What is constant though is the high quality of everything that we put on under the Cheshire Rural Touring Arts banner. Next year's programme will be equally exciting"
".....and did I mention the 12 foot high, inflatable, red lobster !!........"