A few weeks ago there was an advertisement for a new limited stop bus service to Liverpool from Chester. We decided this would be a nice thing to try so we chose a Saturday for our adventure, the reason being that bus passes can be used as early as you like, not the normal 9.30 am.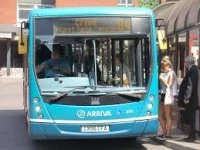 The No 84 into Chester bus station connected well with the half hourly service of the X8 to Liverpool which leaves from the next bay. The journey took only 50 mins, which is slightly quicker than the train, and the bus drops passengers in the centre of Liverpool, very close to Liverpool 1, and only a short walk from the waterfront.
We spent the whole morning in the Maritime Museum, which has undergone an impressive makeover to bring it into line with the new Liverpool Museum, also down at the waterfront. Plenty of choice of where to eat at lunchtime but we opted to stay with the Museum and use their café which is good. The Albert Dock alongside was thriving and very busy with tourists and young families. The walk along the waterfront is a very enjoyable experience, even on a windy day! This bus trip is something we shall be doing again and much easier than taking the car.
If anyone has not been to Liverpool for a while I can highly recommend this bus trip (especially to bus pass holders!). The ride itself is an eye opener. One of the few stops is at the Outlet Village in Ellesmere Port and the Blue Planet Aquarium. This could be a boon to families during school holidays since I noticed that family travel tickets are available.
No, I have not got shares in the bus company but we had such a lovely day out using this bus service I wanted to tell you about it.