GoOnLine Class starts at the Community Centre There was an atmosphere of some excitement in the Edna Rose room on Thursday as the GoOnLine classes, run by Rural Community Services West Cheshire, finally got under way. Seven keen pupils, whose average age it might not be gentlemanly to guess at, started to get to grips with the possibilities available at the click of a mouse.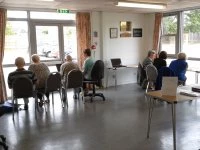 Not all those there were complete beginners. For some it was the opportunity to explore some of the other 'buttons' on their computer and to find out what new applications had to offer. A couple were keen to get to grips with their phones that so far had proved to be 'smarter' than they were.
For one lady, whose mobility had been recently limited by a stroke, the possibility of the freedom offered by internet shopping was the attraction.
Jean Toyn, who leads the group, said "While some older people may be wary of the technology at first, once they can see that it can solve a particular problem, like shopping, or have a pleasurable outcome, like Skyping the grandchildren, they are both as keen and as capable as any youngster of embracing the new ideas and skills"
.
The RCS team was ably helped by a number of volunteers, not only from Tarvin, but from as far as Frodsham and Kelsall. There were a number of laptop and other devices available so that prospective buyers could make decisions about what might suit them best and know what questions to ask when purchasing.
The sessions will be held once every two weeks from 10.00am until Noon and are free. There is no need to pre-register but for more information do contact Jean on 07563 156 220 or by visiting the website www.rcswc.org.uk
PS It was interesting to note that 3 members of the Community Centre Committee were among the students!