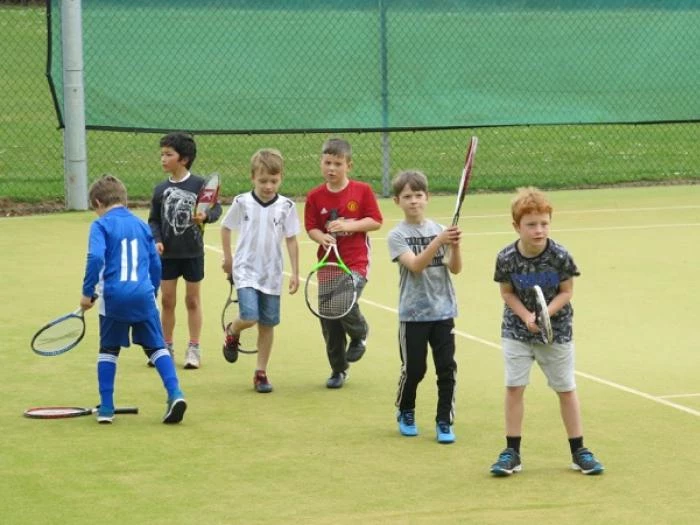 The Great British Tennis Weekend (GBTW) got off to a "smashing" start at Tarvin Tennis Club on 13th May. The GBTW is a nationwide "open days" campaign which began in 2013 giving more people the opportunity to play tennis by offering free open days at tennis clubs throughout the UK. Tennis clubs open their gates and provide tennis facilities, coaching and tennis-based fitness sessions for people of all ages and abilities. More than 50 people attended the Tarvin event.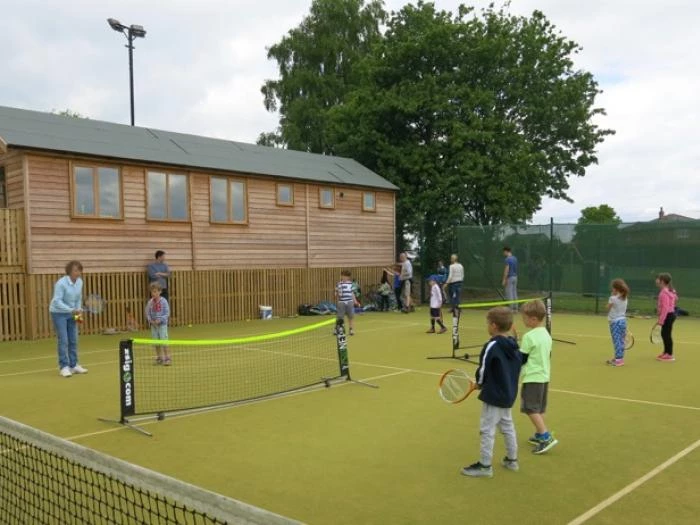 Tarvin club member coach, Gary Ward, introduced children to the game and played tennis and other games as well as learning essential tennis skills, while a number of parents and adults who came to the event were given a rusty rackets session with Gary if they wanted some tips and played games of impromptu mixed ability doubles. Some parents joined in the session as a result of having brought their children. Several of the adults surprised themselves with their abilities. Delicious refreshments were kindly laid on by club committee members. The whole event had relaxed and pleasant community atmosphere.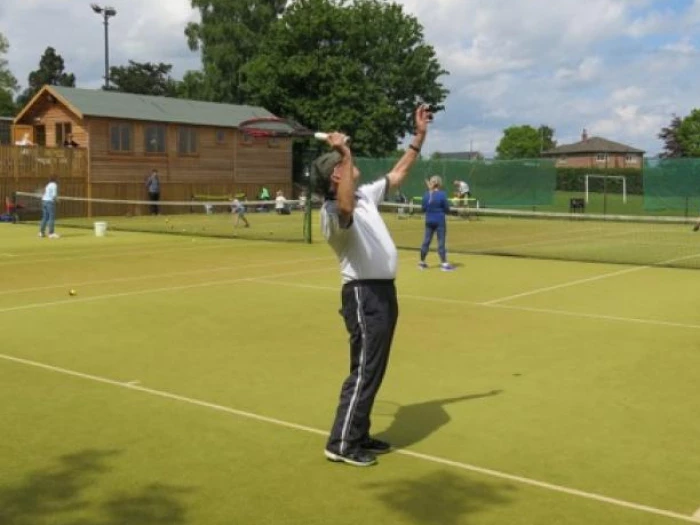 Tarvin Tennis club annual membership is very reasonable. Some attendees joined the club at event, and many took application forms. Anyone who attended can still join at a 10% discounted rate. The club is also offering an 8 week taster membership for just £25. Just in time for Wimbledon!
Many residents will have noticed the marvellous refurbishments which have been carried out at the club recently. Thanks to a generous grant from sport England and an anonymous benefactor, the club have been able to spend a small fortune on a new, timber clubhouse with toilets and modern changing facilities. A balcony now overlooks court one and two, which will make for even more enjoyable club evenings and tournaments. The floodlights and painstaking replacement of the astroturf sand, makes winter tennis and playing in the darker evenings truly viable. Having played under those floodlights, I can tell you, from experience, what a joy it was to wrap up in a fleece and play tennis with my son under the stars.
On Saturday 17th June, Tarvin Tennis Club celebrates it's 50th anniversary with an open afternoon and celebration dinner. The open afternoon event will offer local people and visitors an opportunity to see the club refurbishments for themselves; there will be tennis for club members and refreshments will be provided for all. The focus is on involving more young people in tennis.
The anniversary dinner event is not only for current club members. The club committee are hopeful that former club members as well as families of our younger players and other neighbours will join them for a truly memorable evening. Tickets are available from Club Chairman Rob Millar on 01829 741314. Tickets cost just £22:00 and include a three course meal and welcome drink. With the recent refurbishments to the community centre, and live music from the wonderful Sue Reid Trio, it should be a truly delightful evening.
Regular club days:
Club evenings: Tuesdays and Fridays from 6pm, Floodlit tennis: Wednesdays during winter.
Rusty racket sessions 7pm on Mondays with club coach Gary Ward
Contact Gary if you are interested in the coaching so that he can plan accordingly –
07836 273271 or gary@whackit-tennis.com. He will then confirm sessions with you.
Mini and junior tennis:
Gary runs the following sessions at just £4 per session per child:
Junior tennis for years 3-6 Mondays 5:00pm to 6:00pm then ears 7+ 6:00pm to 7:00pm
Mini tennis, reception to year 3 Tuesdays 4:15pm to 5:15pm subject to number of enquiries.