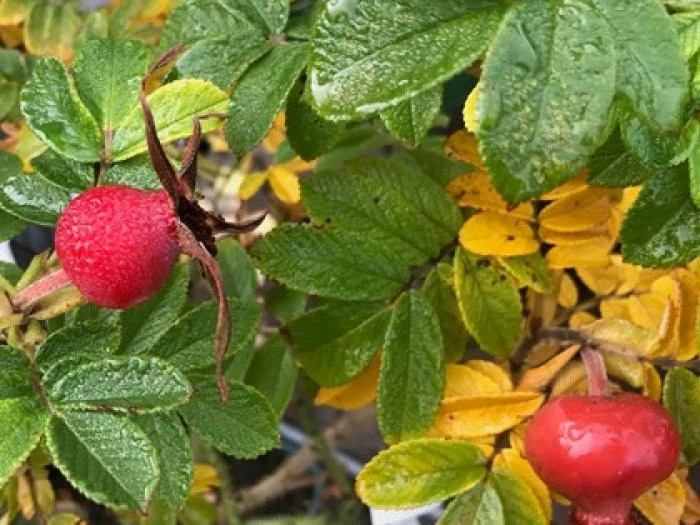 The humble rosehip and the wartime uses for this vitamin-packed little fruit.
Some roses are still managing to flower, but the cool bite of October means it's time to stop dead-heading and allow the hips to form. They are beautiful in their own right – some roses like Scabrosa, Frau Dagmar and the Rugosa species form huge, shiny hips, but there are all manner of shapes, sizes and colours. If you're done making jam and pickle, it is the perfect time to make delicious, healthy, rosehip syrup.
What is rosehip syrup good for?
Rosehips became popular during World War II when fresh fruit was scarce due to their high vitamin content. With more vitamin C and antioxidants in them than most fruits; 20 times the vitamin C content of oranges, they are good for warding off colds and infections – Rosehips are also a good source of vitamins A, D and E. They contain an anti-inflammatory, and are known to help relieve arthritis symptoms. During WW2 the Ministry of Food sent out recipes for Rosehip syrup and established "rosehip picking week" at the best time for the harvest.
The vitamins and other properties are not broken down too much by the cooking as the hips are only cooked for a short time. Many of us can remember being given a spoonful of the sweet syrup each day in the winter... The flavour is too good to keep it just for medicine.
Which Roses are best for making rosehip syrup?
Wild dog roses from the hedgerows are good, and rosa rugosa (often used for planted rose hedges) produce big red hips and make syrup with a nice peach/rose colour. Although, hips from any rose can be used, these are particularly known for their flavour
They are best picked after a frost or can be put in the freezer overnight & allowed to thaw naturally before cooking. This improves flavour & reduces cooking time.

How do I need to store rosehip syrup?
Cooked rosehip syrup will keep in the fridge unopened. The no-cook version must be kept in the fridge and loses flavour and vitamin potency over time, so use the no-cook autumn batch before spring comes around and have a cooked batch in reserve. Trust your nose, and don't consume it if it begins to ferment.
What are the best ways to serve rosehip syrup?
Rosehip syrup can be taken like medicine, by the spoonful – and tastes fantastic! It makes a pleasant cordial diluted in water, or used in alcoholic cocktails. (see below) Or serve like syrup on pancakes, waffles, rice pudding, yoghurt or ice cream.

Rosehip Syrup recipe (cooked)
Ingredients:
4.5 pints water
2 lbs rosehips
1 lb granulated sugar (more can be used if desired, but I find this is enough)
Method:
No need to top and tail the rosehips. The liquid will be strained through a muslin bag or sieve.
Bring 3 pts of the water to the boil in a large saucepan
Mince the rosehips through a course mincer (or chop roughly in a food processor).
Transfer the fruit into the boiling water and bring to the boil again.
Remove from heat and leave for 15 minutes.
Pour through a sterilised jelly sieve or muslin bag or square (See sterilising tips below) and let the majority of the liquid to drip through.
Return the remaining pulp to the pan and add 1.5 pts of boiling water and bring to the boil. Remove from heat and leave for 15 minutes.
Strain through the jelly sieve / muslin again.
Pour extracted liquid into a clean saucepan and boil to reduce the remaining liquid to 1.5 pts.
Add sugar and boil vigorously for 5 minutes.
Pour into hot sterile bottles and seal immediately. (See sterilising tips below).
Sterilising Tips:
Sterilising a jelly bag or muslin square:
Scald with boiling water or iron them with a hot steam iron.
Sterilising bottles
Similar to jam jars ...Just before making syrup, wash and rinse the bottles and place upside down or on their side in a cold oven. Set the temperature to 160C (140C fan). When the oven has reached temperature, turn off. The bottles will be warm for quite a while. Sterilise lids by boiling them in water for 5 minutes.
Use small bottles as it only keeps for a week or so once opened. Syrup can also be frozen in cubes.
Rosehip syrup no-cook recipe
George Anderson from the Woodland trust offers a no-cook raw alternative for maximum vitamins and flavour. Use large hips for this or you'll be doing it a long time!
Hips are traditionally cooked as above, but this 'raw' syrup gives maximum goodness and flavour. George says it is like the best Turkish delight you ever had, crossed with tropical fruits like mango and lychee. What a treat this must have been at a time of scarcity.
Rinse the rosehips under a tap and pat dry.
Trim ends with a knife and score them a few times or pierce with a fork.
Sterilise and dry a large, sealable jar and place a layer of caster or granulated sugar on the bottom, followed by a layer of hips.
Keep layering hips and sugar until you run out of hips or the jar is full. Fill the space between the hips with sugar.
Seal the jar and put on a sunny windowsill for between 2 weeks to 2 months, turning occasionally. The sugar draws the liquid from the rosehips and forms syrup.
Strain through a fine cloth like muslin. Rosehip hairs cause irritation so must be removed.
Seal the syrup in sterilised bottles and keep in the fridge. The high sugar content will stop bacteria from taking hold.
Cocktail : Hedgerow Mojito:
15 ml Rosehip syrup
1 measure of white rum
60ml soda water
Pour over ice and stir.