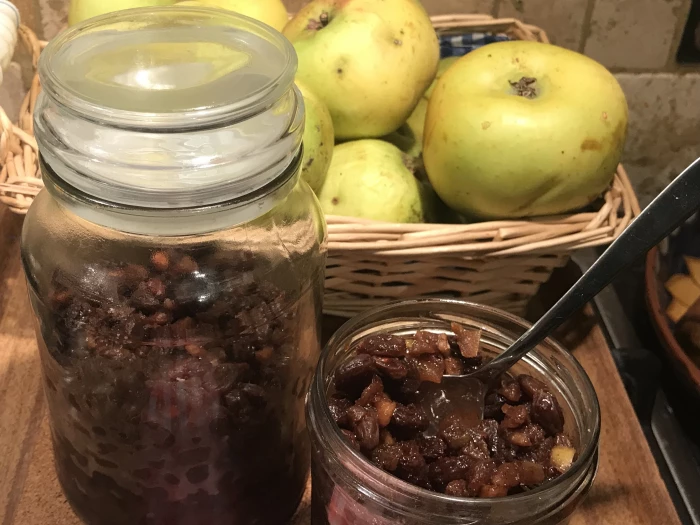 #Basic Mincemeat Recipe
(Makes enough for about 3, 1lb (350ml) preserving jars.)
Ingredients
8 oz (225g) Cooking apples, cored and chopped very small (Essential) -peeling optional
2 level teaspoons mixed ground spice (Essential)
¼ level teaspoon ground cinnamon (Optional)
Large pinch freshly grated nutmeg (Important)
6oz or 150g raisins (Essential)
4oz or 100 g sultanas (Essential)
6oz or 150g soft dark brown sugar (Essential)
grated zest & juice of 1 orange (Essential)
grated zest & juice of 1 lemon (Essential) grate very fine if you don't like peel
4 oz or 100g shredded suet vegetarian suet is fine (important)
4oz or 100g whole mixed candied peel, finely chopped (optional)
1 oz or 50g whole almonds, cut into slivers (optional)
4oz or 100g currants (optional)
3 tablespoons brandy or a teaspoon of brandy essence (optional)
Recipe Note:
This is a great way to use up cooking apples if you've had a bumper harvest and is one of those recipes where you really can make it to your preference. Personally, I am not a fan of peel, currants or almonds so I simply leave them out. My kids hate brandy, so that's out, and we often leave suet out to reduce the calorie load. If the mixture seems sloppy, you can transfer it to a saucepan and heat on low with the lid off to evaporate some of the liquid.
Combine all ingredients, that you want to include (except brandy), in a large ovenproof mixing bowl, and mix thoroughly.
Method
Cover the bowl with a clean cloth and leave in a cool place for at least 12 hours, preferably overnight, to allow the flavours to mingle and develop.
Pre-heat the oven to gas mark ¼, (110°C). Cover the bowl loosely with foil or a lid and place it in the oven for 3 hours, then remove the bowl from the oven.
The mincemeat, will look positively drenched with fat. This is to be expected if you included suet. As it cools, stir from time to time; the fat will coagulate and encase all the other ingredients. Once cool, stir thoroughly again, adding brandy if desired. Spoon into sterilised jars. (see below). When filled, cover with waxed discs and seal. The mincemeat will keep for ages in a cool, dark place – Mine has kept for 3 years, although I did keep it in the fridge!.
Sterilising Jars
To sterilise jars, wash jars and lids in warm soapy water and rinse well or wash in the dishwasher, then dry thoroughly with a clean tea towel, place on a baking tray and into a medium oven, gas mark 4, 180°C, for 5 minutes.
Mince Pies:
this recipe makes around 20 mince pies
Ingredients:
1 lb 4 oz or 570g mincemeat
3½ oz or 95g) lard or White Vegetable fat for baking
3 oz or 75g butter or margarine (baking margarine s best)
12 oz or 350g plain flour, plus extra for rolling
A pinch of salt
A little milk
Equipment:
Two 12-hole greased patty tin trays, each hole 2½ inches (6 cm) across the top,
A 3 inch (7.5 cm) pastry cutter and a 2½ inch (6 cm) round pastry cutter, – ideally, fluted. A star cutter can be used for the lids instead which makes a nice alternative.
(If you don't have pastry cutters, simply roll out the pastry into 2 flat sheets and sandwich the mincemeat between them on a baking tray with 2cm sides – makes very tasty mincemeat slices)
Method
The key to short pastry is COLD. Have cold hands, cold fat and prepare in a cool kitchen.
Weigh out the fats straight from the fridge, cut into chunks and add them to the bowl of a processor. (A mixing bowl and hand mixer with beaters will suffice.)
Sift flour into a mixing bowl, then add it to the fats. Add a pinch of salt, then process until the mixture is crumbly and blended. Add 3 tablespoons of cold water, process again, then put the dough in a mixing bowl. Bring together with your hands, adding a few more drops of water to make a dough that leaves the bowl clean. Don't over-handle the dough. Just squash and lightly knead until you have a smooth dough.
(If you don't have a processor, rub the fat, in small pieces, into the sifted flour and salt till it resembles fine breadcrumbs, then add the water, stirring with a round-ended knife to make a dough.)
Place dough into a sealed plastic box or plastic bag to rest for 30 minutes in the fridge, to make it easier to roll out.
Preheat oven to gas mark 6, 400°F, 200°C.
Take a tablespoon of pastry and roll into a ball, press into one of the patty tin holes and place on one side... this is your "dibber"
Divide the remaining dough in half on a well-floured surface. The number of pies depends on how thinly you roll the pastry. Roll out as thinly as possible, (about 2-3mm) then use the large cutter to cut out rounds. Dip the pastry cutter blade in some flour, then place the cutter on the pastry and give it a sharp tap – don't twist. Dip the cutter blade in the extra flour between cuts, this prevents the pastry rounds from sticking to the cutter.
Place rounds in the patty tins, and press the pastry round gently into the tin with your "dibber" add one rounded teaspoon of mincemeat to each one it should just over half fill the base, (too much mincemeat will bubble out of the pie and it will stick to the patty tin).
Roll out the other half of the pastry and repeat the exercise with the smaller cutter or star cutter.
Dampen the edges of the pastry cup and lids with milk and press the lids lightly into position on top of the mincemeat, sealing the edges well. This can be achieved really well with the use of an egg-cup pressed upside-down onto the mince-pie lid edges. (You can chill the mince pies at this stage if you don't want to cook them immediately.)
Brush the pies with milk, make 3 cuts in the top of each one with scissors, (not required if you have used stars as there will be spaces to let the steam out) and bake on the top shelf of the oven for 20-25 minutes.
Finally, remove the pies with a rounded knife and place them on a wire cooling rack. When they're cold, if you are very strange or on a diet...pack carefully between layers of baking parchment in plastic freezer boxes. Otherwise, dust with a little caster or icing sugar, grab a cup of tea or some mulled wine and scoff one straight away! Hide in a plastic box or cake tin with a well-fitting lid and hide away...I mean...they will keep for about a week or 2 in a cool cupboard as long as you don't tell anyone you've made them.
*This recipe can be made gluten-free using gluten-free white flour, but do alter the quantities to 10½ oz (295 g) gluten-free white flour, 4 oz (110 g) butter or margarine and 2 oz (50 g) lard or white veg fat. Gluten-free mincemeat is also available but if you make the recipe above, without suet, it should be gluten-free anyway