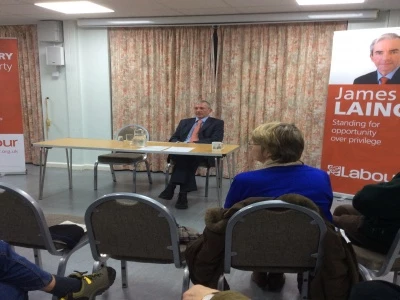 It is fairly rare these days to have hustings at an election but on Friday evening (March 6th) one was held in the Community Centre when prospective Labour candidate for Eddisbury, James Laing, addressed the public.
The word 'hustings' originates in Old Norse when it meant a meeting summoned by a king or leader. Before the 1872 Ballot Act it referred to the temporary platform on which the nominations of Parliamentary candidates were made. Such candidates then addressed electors and it is this act of speaking to potential voters in an election that are known as hustings today. Public meetings were once a common part of electioneering and were often rowdy and raucous occasions but with the rise of radio, television and social media they are less common. Politics is now more stage-managed as politicians and their advisors attempt to control the message the public receive.
It was refreshing then to meet a candidate face to face and hear him talk about the policies which he hoped would take him to Westminster. James Laing was born in the Midlands and raised in London, but has lived for twenty years in Liverpool and the Wirral. He is a television camera man by profession and has stood in a previous election in Thanet, a constituency that will receive much more attention this election than it did when Mr. Laing stood!
The audience of about 25 were mainly Labour supporters and Mr Laing spoke with conviction and candour about his party, its policies and his political vision. He acknowledged that, with a Conservative majority of over 13,000, and a third place for the Labour candidate in 2010, he was realistic about his hopes of a seat in the next Parliament.
The Community Centre were delighted to be able to offer this opportunity to one of the local candidates and hopes other hopefuls from the other parties will follow Mr Laing and come and meet the people of Tarvin.
Just to remind you, the Election is on May 7th and the Polling Station is the Community Centre which will be open from 7.00am until 10.00pm.