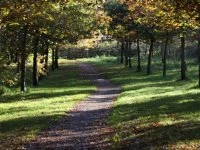 Part of the job which Trustees do in running the woodland is to keep working to improve it.
Some of the improvements we have made are quite small and relatively inexpensive – for instance, creating and maintaining the 'adventure' pathways through the dense vegetation, laying hedges, planting fruit trees, improving disabled-access gateways, putting in a bird feeding station and hides, etc.
Other improvements are much larger and have cost a great deal of money – for instance, draining the boggy ground and then, later, improving the footpath surface.
For both of these larger jobs, in addition to money from our own funds, we were fortunate to receive grant-aid. The improvements to the footpath were funded by WREN (the body that distributes the landfill tax grants) and by CWaC Rural Development Fund and both of the funders commented on the great amount of community goodwill generated by our project, as evidenced by the large numbers of letters written to us in support of our bid.
It has been commented on by many people that our woodland lacks any water and so we are now proposing to install some water scrapes in the space between the bird hides and the school path. Unlike most ponds, these will be very shallow and, because they will be replenished only by rainfall, they may be dry for some part of the year.
However, they will serve as a valuable source of water for many of our woodland creatures and, since we are intending to put in a small jetty near to the school, pupils will also be able to study aquatic creatures during fieldwork outside their classrooms. Surrounding the scrapes with a dog-proof fence should help to preserve them from depredation by enthusiastic canines and ensure safety for small people.
It would be possible for us to do a job (of sorts) ourselves using a JCB. However, such an approach would produce a very poor and amateurish outcome and so we have decided once again that we would like to employ contractors, in order to have everything done really well – indeed, to a standard in keeping with the rest of the woodland.
Therefore, we intend to apply once more to the same funders who gave us the finance for the path improvements. However, these funders have let it be known that the likelihood of our getting any money at all for a project involving water is very slight – unless we can demonstrate a huge amount of support from the Tarvin community and a very clear educational benefit to the young people of the village.
And that brings me to the purpose of this piece – which is to issue a plea!
Please could I ask 'Tarvinonline' readers to write to me, offering support for the project and emphasising the benefits that would result from water being introduced to our woodland? Such letters will augment our application splendidly and would reinforce the merit of the claims that we are making. A well constructed, well fenced and well-used set of scrapes would be a great asset to the school, to the whole village and to the woodland and all of the wildlife in it that we do so much to encourage.
If you are able to send us a signed letter, bearing your own address, we would be most grateful. My name and address is:-
Charles Bradley,
Secretary of Tarvin Community Woodland Trust,
4, Andrew's Close,
Tarvin,
Chester.
CH3 8LN.