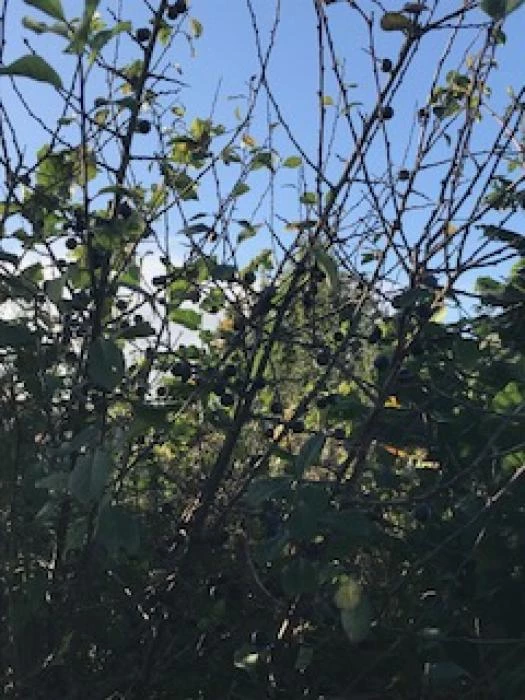 If you take a walk through Grogan's Woodland over the next few days you will be able to spot the fruit of the blackthorn bush...and before you think "yawn, next article"...you might be more interested to know that these little gems are also called SLOES and are the crucial ingredient in sloe gin / vodka / wine etc! (and yes...the photo attached to this article was taken in the woodland this very morning!)
Because the liquor needs at least two months to rest....if you're planning on a Christmas tipple, then you might already be a little bit too late – but, kept in a dark place, it will also be absolutely perfect next year!
The best time to pick sloes depends on what you are going to use them for – for sloe gin it is traditional to wait until after the first frosts....but your freezer will con the berries into thinking that winter has come early! The theory behind this is that the frost will split the skins for you and the juices will flow into your gin without you having to go to the trouble of pricking them all.
Whether you choose to make sloe gin or vodka the quantities are the same:
for every one litre of gin you will need 500g of sloes and 250g of white sugar; (or for those who deal in "old money" for every 2.2 pints of gin, you will need 1lb 1 oz of sloes, and 8.8 oz of white sugar).
Tip the sloes into a large, clean jar then add the sugar and finally pour over the gin. Close the jar and give everything a good shake. Leave the jar in a kitchen cupboard – shaking every day or so for the first week until all of the sugar has dissolved...after that, give it a shake whenever you remember. After at LEAST two months, strain the gin using a funnel lined with muslin or coffee filter paper. The gin is now ready to drink and will keep indefinitely in a dark place – the longer you leave it the better the flavour becomes! Don't forget the shaking!!!
...and Merry Christmas!