Introduction
As one of the greatest mapmakers, John Speed remains a favourite over five centuries later. His maps adorn homes in Britain and around the world such is their quality and attractiveness. His Cheshire county map of 1610 shows the decorative style repeated in all his county maps and many others.

Born in Farndon in 1551, he moved to London in 1580 to pursue tailoring like his father. There is uncertainty about this as he gained the patronage of a rich influential Member of Parliament. Sir Fulke Greville. With Greville's wide circle of affluent, cultural contacts Speed could foster his passion as a cartographer. The endless hours spent after work honing his craft would soon reap its reward. Whatever drew Greville to promote Speed's career came to fruition in 1595 with the publication of a biblical map of Canaan, now part of Lebanon. This and other maps were presented to Queen Elizabeth in 1598. Such favour assured his future in Tudor society and set loose his creative energies. Three years later the great 'The Theatre of the Empire of Great Britain' appeared to much acclaim. It contained the first set of county maps of England and Wales, some of Ireland and a general map of Scotland. Uniquely, it showed town plans in fine detail not seen in Saxton's 1577 map, doubtless used by Speed to base his county maps on.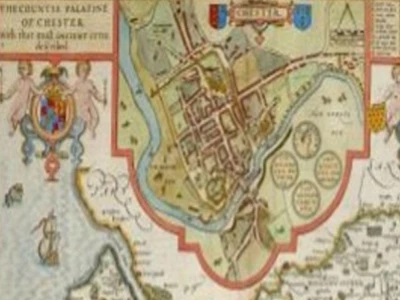 The presentation of the main body of the map is rather simple, with pictorial symbols depicting settlements, hills, trees, windmills and fenced deer parks. There are few rivers and bridges, no roads, as on Saxton's map and, of interest, on my part, water mills. Nevertheless, the maps offer a friendly, comfortableness about them, as if the reader might be capable of the same.

Speed readily admitted to using the work of others as the groundwork for his maps. This is clear when comparing Saxton's 1577 Cheshire map. It was Saxton who produced the first set of county maps in his atlas of 1570-1579. The inclusion of town plans gave Speed the edge until his unequalled output, range and unerring decorative quality ensured wide acclaim.
Two years before his death he achieved a first for an English cartographer, the publication of 'Prospect of the Most Famous Parts of the World.'
John Speed died aged 77. He is buried alongside his wife in the churchyard of St.Giles, Cripplegate in London. A bust and inscription remain.
A detail on both Saxton and Speed maps shows a river or a tributary, of presumably the Gowy, connecting the Mersey estuary to that of the Dee.
This has been supported and challenged over many years. It will be considered in Speed: Seeing and Believing, Part 2.