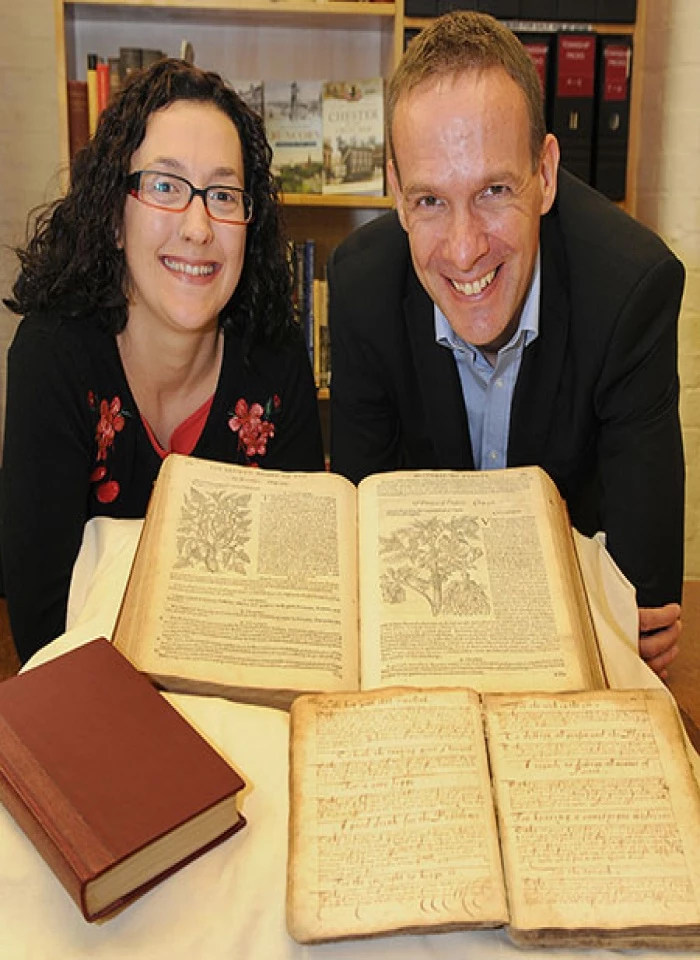 An 18th century 'bake-off' is part of a free event called 'Cooking the Books' in which hundreds of years of recipes and remedies are discussed at Cheshire Record Office, Chester on Wednesday 30 September.
Between 5pm and 6pm foodie enthusiasts will be given a flavour of the healing properties of plants written by a surgeon and plant collector from Nantwich in 1597, which includes the first ever description of the potato in the English language.
Also three other books including a 17th century recipe book begun by Lady Stanley of Alderley around 1620 which includes cures for the plague, 'Mrs Fallow's syrup for the cold' and 'the Countess of Derbye's dyett drink.'
Eliza Cholmondely's recipe book includes a recipe to 'preserve orrenges my cousin Bettie Chomley's Way.'
The final volume is by Elizabeth Raffald, who, in 1769 was the Mary Berry of her day. Inspired by her years working as a Housekeeper, including at Cheshire's Arley Hall, she went on to write the definitive cookery book of her time. Recipes included Flummery (blancmange), Wiggs (sweetened buns), Quaking pudding (cream, eggs and nutmeg) and a Thatched- House Pie (pigeon pie with Vermicelli roof).
Everyone who comes along to the talk will be able to taste four Raffald recipes which have been baked by Archive staff. These will be:
A Herb-Pie for Lent – a vegetarian raised crust pie filled with seasonal vegetables and groats
Almond Cheese-Cake – a puff pastry dessert flavoured with ground almonds and rosewater, and no cheese
Seed-Cake – a dish containing spices and caraway seeds which took two hours to beat by hand!
And Salmagundie – a pretty salad dish of chopped cooked meat, boiled eggs, pickled herrings, parsley and capers.
Chester Councillor Samantha Dixon said: "This talk and tasting will I am sure be fascinating.
"It will give you a flavour of what foodie enthusiasts can find in the archives at Duke Street, and there will be a historic 'kitchenalia 'display.
"You will be introduced to recipes and remedies from Tudor times, through to the fashionable 50 – dish dinner tables of the 18th century.
"Learn about the weird and wonderful, unexpected and, delicious or not so delicious recipes, as well as a glimpse of a time when the common cold to gunshot wounds were treated with herbal remedies."
Booking is essential for this event. To book online visit www.cheshirearchivesandlocalstudies.eventbrite.co.uk or telephone: 01244 972559. .