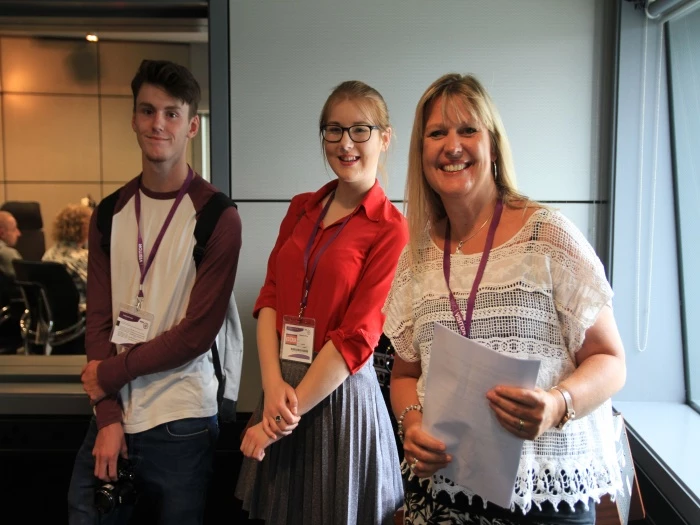 Tarporley High School and Sixth Form College's very own English and Media teacher, Mrs McMillan, was asked to record the voiceover for a new trailer for BBC School Report – a BBC project which gives students in the UK the chance to make their own news reports for a real audience. The trailer is still in production but will be played nationally on television, on radio and online later this year.
Having been heavily involved in the BBC School Report project for many years, the BBC approached the school to receive feedback from teachers who had worked with students in the past. Mrs McMillan spoke to the Marketing team, and as a result of that discussion, was invited to Media City, Manchester, to record the voiceover in a studio this summer.
Two Sixth Form English and Media students, Rhiannon Price and Dan Farrell, accompanied Mrs McMillan to Media City, gaining invaluable insights into the Media Industry as well as acquiring a unique experience to refer to on their UCAS applications for University. Mrs McMillan said, 'We were delighted to be asked to be part of such an important campaign for the BBC. Whilst it was a daunting experience, it was a fascinating process for our Sixth Formers to be part of. It will be strange hearing my voice set to an animation on a national marketing campaign!'
The main BBC School report news day is on 10th March 2016, which Tarporley students will be involved in once again. Look (and listen) out for the forthcoming trailer on the run up to the main event!
For more info please see: http://www.bbc.co.uk/schoolreport