The skies across the north Atlantic are full of planes making what is now a routine trip between the Old and New Worlds. Few will ever think about the 16 hour trip made in June 1919, when John Alcock and Arthur Witten Brown climbed into a former Vickers Vimy bomber and set off from Newfoundland to attempt to fly the Atlantic non-stop. For most of the time they flew in thick fog, and managed only a couple of sightings of the sun to calculate their position, yet they landed, somewhat unceremoniously, in a bog near Clifden, County Galway, and made history.
The story of these two brave aviators was told in the Play, Those Magnificent Men, at the Community Centre on Saturday evening (May 16th) David Mountfield and Brian Mitchell of The Foundry Group entertained a large audience with a comic yet moving account of their lives. With minimal props and some clever sound, they took the audience with them on that cold and terrifying journey.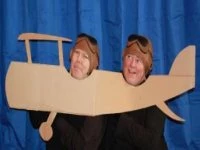 Both Alcock, a pilot, and Brown, an engineer, had been prisoners in the Great War and had dreamed about the possibility of the crossing. They were inspired by curiosity and patriotism, though the £10, 000 reward offered by Lord Northcliffe may have helped. There were a number of other teams attempting the crossing that summer and the American team actually crossed first, but a stop at The Azores prevented them claiming the title.
Within a couple of weeks of their return, both were knighted by the King. But Alcock died in an air accident in December 1919, and Brown quietly returned to work as an engineer in Vickers. After Alcock's death, he never flew again. Their exploits were soon overshadowed by the flight and subsequent celebrity of Charles Lindberg.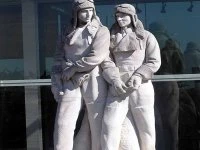 Sue Hardacre, for the Community Centre said "This was an inventive piece of theatre and the story was a gripping one. It brought back into the public domain a couple of real British heroes. I am off to America soon, and if I have to crawl along the wing to scrape ice off the air-intakes with a penknife, I shall demand my money back! I am delighted that so many people came along to enjoy the show"
There will be more innovative theatre production at the Community Centre in the autumn.