Megan Latham
My name is Megan Latham, I live in the village of Tarvin and am a year 10 student at Tarporley High School in Cheshire
.
I have the opportunity to participate in an expedition to Borneo in 2015. This will be a four week expedition and will include community development work, environmental projects and wildlife conservation. I will be taking part in activities including reforesting areas where the jungle has been destroyed to create a safe haven for the animals that depend on it for survival, finding alternative fuel resources for communities and visiting Sepilok Orang-utan Sanctuary to view Asia's only great ape at close quarters.
This expedition is extremely important to me because I feel that I will acquire and develop many important life skills such as being resourceful, communication and self-confidence.
I am aiming to raise £4000 to meet the costs of this expedition. As part of my fundraising I am producing a PROMO T-SHIRT to be worn at fundraising events and whilst in Borneo. I would like to offer you the opportunity of having your logo printed on my t-shirt in return for a donation of £200.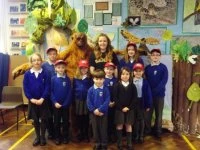 I will supply photos of me wearing the t-shirt which you could use to show your support for children in the community who wish to help in conservation projects abroad. If you feel unable to contribute to my t-shirt I would be extremely grateful for any donations large or small you may make towards my fundraising and will be issuing a press release on my return from Borneo mentioning any support you may have given me.
Thank you very much for taking the time to read what I have to say.
Megan Latham, 4 Broom Crescent Tarvin Chester Cheshire CH3 8HA
Contact for further information 01829 740224 (Cheques made payable to Megan Latham)
*Visit www.campsinternational.com for further information