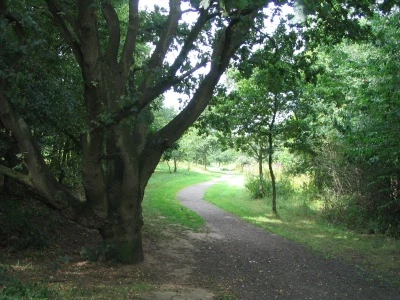 As everyone knows, in Tarvin woodland we have a mixed woodland with a large number of young oak trees, many of which have been planted by villagers. It will come as no surprise that oaks grow into magnificent and very LARGE specimen trees and it is our hope that, in years to come, our woodland will contain a good number of such trees. But therein lies a problem. For an oak tree to grow into a huge specimen, it must have, among other things, sufficient space around it. Trees which are short of space; whose canopies and roots overlap significantly with each other, cannot grow properly and will remain stunted and smaller than they should, even if they avoid the disease problems which such overcrowding can also bring.
The correct planting distance for oak trees is actually quite a long way apart, and, for young trees of 18" or 2' tall, planting this far apart would appear to be ridiculous. Thus it is that our novice Trust members, when first planting our trees, have allowed many of them to be put in far too closely to each other. In forestry terms, this is certainly not a total disaster – it is standard practice for three small trees to be planted for every one which is finally required. As they grow, the best trees are retained and the poorer specimens are removed, so that eventually the correct spacing is achieved and the trees that remain can grow, happily and healthily, into the wonderful trees which we all hope will survive us – and our children.
Our problem lies in the fact that particular ones of our trees have significances which are greater than those of just ordinary oaks. At the Broomheath Lane end of the Woodland, there is an avenue of oak trees, specially planted during the Autumn of 1998 and dedicated by Rev'd David Herbert at 11.00am on 11th November 1988, in remembrance of those soldiers from Tarvin District who died in the World Wars. They are now reaching a good size – and their canopies are beginning to meet – which means that their roots are also beginning to meet underground. The problems of overcrowding are beginning to show: their growth is becoming more limited and there is some evidence of disease on them. The correct action would be for us to fell alternate trees, thereby creating space for those that remain. However, because of their special significance, Trustees are reluctant to do so before consulting with the folk in the village – which is what is now being done. What do YOU think should happen? One suggestion is that felling should be postponed until we take over the new woodland strip from Taylor Wimpey. Once that is within our control, we could arrange for replacement commemorative oaks to be planted in an avenue in the new woodland – one replacement for every one of the existing trees which have to be removed from the old woodland. This would help to retain the significance of the trees and ensure that this significance is remembered, because the trees would then be able to survive and become the magnificent trees that we all hope for.
Everything that goes on in the woodland is well documented on our very extensive (and frequently up-dated) website. Do 'visit' us at www.tarvincommunitywoodland.org.
It is your woodland and the Trustees' first aim is to run it as the village would wish to have it run. DO tell us your views. We cannot promise to act on everyone's comments, since they may well conflict with each other, but we do promise that we will listen – and then we will act thoughtfully and carefully, in what we feel is the best interests of Tarvin's woodland and Tarvin's people.
Make your views known either by email to charlestbradley@btinternet.com or telephone 01829 741172